Topshop will collaborate with photographer Nick Knight and stream its Topshop Unique show via Periscope during London Fashion Week.
The fashion retailer, owned by Sir Philip Green's Arcadia group, is using Periscope in a bid to "democratise fashion" by connecting its consumers with the runway show in real time.
The video feed will offer a behind-the-scenes look at the event, which takes place on February 21 in the Duveen Galleries of London's Tate Britain, and will run from its initial set-up to the catwalk finale.
Photographs will also appear in the window of Topshop's Oxford Circus flagship store in a 3D installation by set designer Thomas Petherick.
Topshop is collaborating with Showstudio.com, the fashion website founded by Knight, on the project.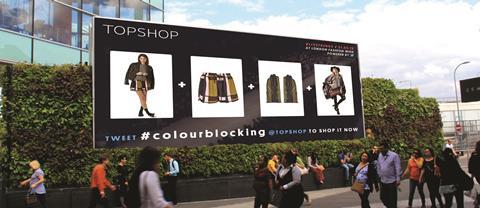 Knight said: "Fashion systems are developing so rapidly, and there are so many new and amazing possibilities. Showstudio has always championed change and innovation, so the challenge of posting real-time and live-steaming straight to Periscope is one we relish."
It is not the first time Topshop has used social media channels in its catwalk publicity. This time last year it partnered with Twitter to identify live trends during London Fashion Week.
Topshop analysed real time data on Twitter in order to display emerging trends on digital billboards around the country.