Chinese fashion etailer ShangPin and Topshop took over one of Beijing's largest malls last week with a mobile marketing campaign.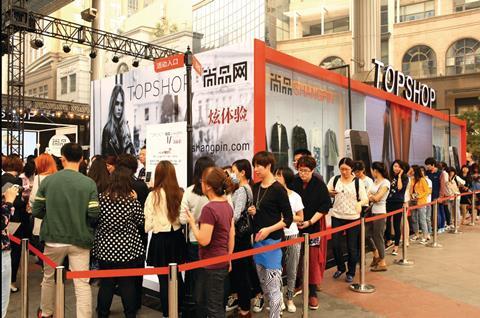 The campaign, called The Mobile Adventure, was held to promote Arcadia-owned Topshop's launch on the Asian site and allowed customers to virtually try on clothes.
All shoppers at The Place mall were required to enter the two-day event using QR codes.
Once inside, shoppers were then able to browse almost 300 Topshop outfits on a giant smartphone. Shoppers were then able to order the outfit for next day delivery through a QR code.
Shoppers were also able to try on clothes in on-site changing rooms and take pictures of themselves in front of a screen displaying images of Topshop and London.
A mobile game was also created for the event, so shoppers could act as a fashion editor, create their own styled content, take and upload photos, and share them on social media.
Connecting with Chinese customers
Arcadia owner Sir Philip Green said: "Working with ShangPin has allowed us to directly and effectively connect with the Chinese consumer in a way that would not be possible through a traditional brick and mortar presence.
"The consumers we are trying to reach are doing all of their shopping online and on their phone. They are looking for more than just a convenient checkout, they want trend-driven products and advice on how to style a look – something ShangPin is well positioned to help us deliver."​
"We wanted to introduce Topshop to China in a way that had never been done before"

David Zhao, ShangPin
More than 5,000 shoppers participated in the event.
ShangPin chief executive David Zhao said: "We wanted to introduce Topshop to China in a way that had never been done before by any brand or retailer.
"For China's young consumers, who were born in the 1980s and 1990s, and spend up to 30% of their day online or on mobile, it was only fitting that we do it through a bold experience that seamlessly merged the physical and virtual worlds. This is how we live in China today."
Some 40% of ShangPin's total sales are via mobile devices, since the retailer launched its mobile app last year.
ShangPin provides more than 300 looks a month through its Styling & Social Marketing Platform for the Topshop. All the looks are shareable across Chinese social media platforms including WeChat and Weibo.