Grocer targets mainstream clothing brands to sell online as it seeks to build credibility in fashion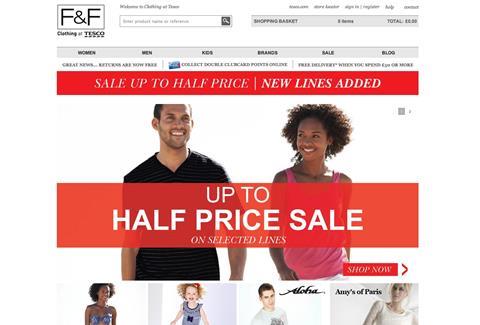 Tesco is to start selling mainstream fashion brands on its clothing website, as it aims to build its credibility in non-food online.
Tesco has invited mainstream fashion brands to an event at the end of June hosted by clothing chief Richard Jones and UK chief executive Richard Brasher. The event is designed to showcase the changes Tesco has made to its clothing website, and share its online plans.
Jones told Retail Week: "We've reset the base with clothing with our work on quality and getting the broad appeal right for [own-label] F&F, and the next stage of growth will be online."
Tesco aims to woo high street names such as Wonderbra and Playtex and the site will also link with Tesco's global marketplace, which group chief executive Phil Clarke said would launch in late 2011 or early 2012. Brands will be able to wholesale to Tesco or become a seller on the marketplace, or both.
Jones admitted that "grocery to some brands is a bit frightening" but he said: "If you've invested time and money in a brand then rightly so you want to protect it and make sure the execution is right. We're asking them to come and see what we've done, the changes we've made already online, and build up credibility and trust."
Jill Easterbrook, director, online clothing, said: "We got ahead in online retailing in food and we want to do what we've done in food in clothing."
Tesco refreshed its website last month to coincide with its new advertising campaign for F&F, called 'Fashion for Living'. The look and feel has been refreshed, with more emphasis on the product and stronger images.
The website already carries a handful of brands but they are small independent, boutique labels. Easterbrook said: "When we started online we were keen to establish our fashion credentials, so we targeted smaller boutique brands. Now we want to work with the broad appeal mainstream brands."
She likened the plans for clothing to its non-food evolution. "In electricals, it took some time to build up relationships with brands such as Sony and Apple but we've done that now and they are big sellers for us. It might seem different in clothing but this is what we do in our business in every category."
Easterbrook explained that the brands will have an input into how their products will look on the site, and it is working on a new brands landing page at present.
However, she stressed that F&F will remain critical to the success of the site because "the stronger F&F is, the more customers want to visit the site".
This week Clarke outlined his new strategy for Tesco in a video on the company's website. A new focus on developing its own stable of brands was one of the key messages.
Tesco has appointed Sir Richard Broadbent as its new chairman. Broadbent is currently deputy chairman of Barclays. He replaces David Reid, who will step down in November after 26 years with Tesco.