Ted Baker will unveil its new format store on Friday as part of an effort to tap into the tastes of trendy shoppers in East London.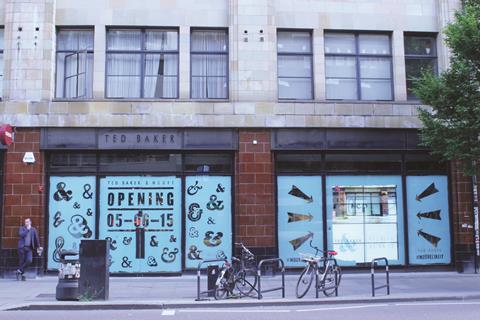 Ted Baker will unveil its new & Moore fascia in East London on Friday
Branded as a lifestyle store Ted Baker & Moore will sell products from its extended licence range
Products include clothing, eyewear, cycling equipment as well as a coffee bar and a barber
The new format store is a first for Ted Baker because it will not only focus on fashion, but sell products from its extended licence range.
The retailer claims the store will put the spotlight on "the wider world of Ted" by showcasing jewellery, watches, bicycles and "everything in-between."
The store will sell a limited range of clothing, as well as footwear, audio, luggage, eyewear, fragrances, watches, jewellery, homeware, gifts and stationery. Ted Baker & Moore will also offer a small collection of bicycles through a partnership with Quella.
The new store will also feature Ted's Grooming Room, as well as Ted's Beauty Spot, which will offer nail treatments as well as lash and brow maintenance.
Customers will also be able to drink coffee while they browse the product range due to the in-store mini Everbean Coffee shop.
The permanent 4,500 sq ft to 5,000 sq ft store will open at 11am on Friday at 123 Commercial Street in East London's Spitalfields. The store has been designed to feel like a warehouse with concrete floors, breezeblock walls and steam beams. It will also feature ceiling-to-floor digital window displays displaying Ted Baker products.
In March, Ted Baker reported a 23.7% increase in pre-tax profit to £49.5m for its full year ending January 31 2015.
Founder and chief executive Ray Kelvin said at the time: "Our customers' reaction to our spring/summer collections across markets has been very encouraging and we are excited by our new store openings in the coming months, which include a first store devoted to showcasing our extended licence product range in Spitalfields, London."