Fashion retailer Ted Baker's profit before tax and exceptional items increased 23.7% to £49.5m in the year to January 31.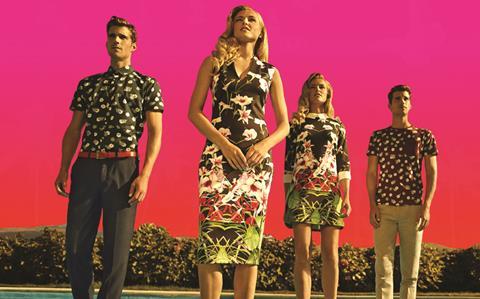 Group revenue was up 20.4% to £387.6m while retail sales jumped 18.4% to £306.9m.
UK and Europe retail sales advanced 16.7% to £231.8m and in the US and Canada increased 24.9% to £63.3m.
Ecommerce sales surged 58.2% to £36.7m.
Ted Baker, which was named Retailer of the Year at last week's Oracle Retail Week Awards, said its retail business had "started the new financial year well, and we are encouraged by the positive reaction to our Spring/Summer collections".
Ted Baker founder and chief executive Ray Kelvin said: "This was another excellent year as we continued to develop Ted Baker as a leading lifestyle brand across global markets and distribution channels.
"We continue to invest in the brand as we develop in new markets where we see long-term growth. All the while, we remain totally focused on the quality, design and attention to detail which underpins every area of the Group.
"Our customers' reaction to our spring/summer collections across markets has been very encouraging and we are excited by our new store openings in the coming months, which include a first store devoted to showcasing our extended licence product range in Spitalfields, London.
Kelvin said the conceptual store in Spitalfields - called Ted Baker and Moore – be a one-off store showcasing all the extensions of the brand.
The permanent store which will open in the Spring, will include clothes, shoes, watches, luggage, a barbers and a coffee bar in the 4,500-5,000 sq ft space.
"The strength and success of the Ted Baker brand is testament to the skill, talent and 'Tedication' of our team across the world, and I would like to take this opportunity to thank them for their hard work and 'pashion' during the year. We look forward with continued confidence as we further develop Ted Baker globally."
Composite gross margin decreased to 60.7% from 61.7%, "mainly as a result of a change in sales mix between wholesale and retail sales and partly due to a slight decrease in the retail and wholesale margins", the retailer said.
Ted Baker plans store openings in Stansted and in Spitalfields, London. It will "further develop" its e-commerce site to "enhance customer experience and advance the local content provided to our European customers", including language options specific to key countries.
Ted Baker will also open stores in Amsterdam, open its first shop in Spain in Barcelona and open further concessions, in France, Germany, the Netherlands and Spain during the year.
It will continue to expand in the US by opening stores and pushing its online business.
Ted Baker said it aims to build brand awareness in Asia "where we are in the relatively early stages of development". It will open its first street level store in Hong Kong at the end of April and further concessions in China and South Korea.
Ted Baker trades from 398 stores and concessions worldwide, including 183 in the UK, 83 in Europe, 75 in the US and Canada, 50 in the Middle East and Asia and 7 in Australasia.