SuperGroup has reported a rise in full-year profits and unveiled plans to expand into China. This is what the analysts said.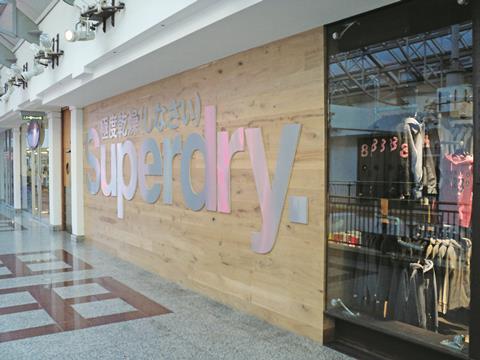 "Having revealed a comprehensive strategic review and bought its US licence back in March, the signing of a 50:50 joint venture with Trendy in China (operates circa 3,000 stores), we see as another step towards becoming a global brand. SuperGroup's share of funding costs is £9m, with a minimal profit contribution expected over the medium term as management tests and learns the market.
"We believe SuperGroup's global growth opportunities remain undervalued. It is an early stage roll-out story with potential to double its UK and European-owned store base, plus franchise growth opportunities and longer-term upside from the US and now China. Also, we believe there is a material opportunity to improve UK profitability."
Kate Calvert, Investec
–
"SuperGroup has delivered FY15 results slightly ahead of our expectations but within management's guided range. Of greater note is a very strong start to the new year, with like-for-like growth over 20% to date. The company cites weak comps and hence says it is just comfortable with the existing consensus range for FY16.
"Management has commented that the first-quarter comparatives were weak and fell within the lowest-volume quarter. With strengthening comparatives in the balance of the year, management expects to deliver underlying profit in FY16 within the range of analyst expectations."
Anjli Shah, Stifel
–
"The key focus and sentiment driver going forward in our view will be the international development of the brand through all channels. Space growth switches in effect totally to the international stage, although the UK should continue to see growth through product initiatives and range extensions such the new Idris Elba range, which launches later this year. This will be complemented by improving operational efficiency.
"Today's announcement of the joint venture confirms the Chinese whispers in last weekend's press. It is the culmination of a long and painstaking process over the past two years to find the right partner for the long-term development of the Superdry brand in the world's most populous market. The process was delayed by the acquisition of the US licence. Both transactions are crucial elements of the brand's global expansion ambitions.
"While both will be earnings-dilutive for around two years, we believe investors should look through this short-term impact to the longer-term benefits that should accrue from a growing presence in these two substantial consumer markets."
David Jeary, Canaccord Genuity
–
"Current trade like-for-like sales growth of 20% is flattered by soft comparatives, but provides great comfort for the year ahead. We see upgrade potential against the weak autumn comparative, potential for special dividends and note the upside from US distribution in medium-term forecasts.
"We expect China to be very much a long burn, and unlikely to impact numbers materially in the next three to four years. Having now taken control of distribution into the US, SuperGroup is successfully clearing out old excess stock and repositioning the brand with wholesale partners."
John Stevenson, Peel Hunt