Sir Philip Green expects a "seat at the table" if retail consolidation presents opportunities.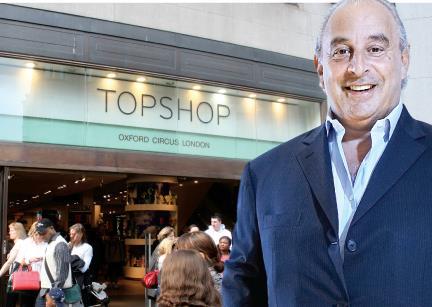 Arcadia owner Sir Philip Green signalled the possibility of further landmark deals as he unveiled a 25% rise in profits at the fashion group and celebrated 10 years of ownership.
Green's £850m acquisition of Arcadia in October 2002 was one of the highest-profile deals of the decade and the tycoon hinted it might not be his last.
Although he has nothing specific in his sights at present, he told staff at the Arcadia results breakfast on Wednesday: "Is there one more big deal? Who knows? We want to have a seat at the table if there is consolidation in the sector."
He added: "We're well positioned. We want to be in the discussion if there is one. We're not heavily borrowed. We have a first-class record with our banks. I've got no worries about raising very substantial sums of money if we want to do something."
Green said that Arcadia has prospered under his control and that the flagship Topshop Oxford Street store is expected to generate sales of £165m this year compared with £65m when he took over. "That's one mark of success," he said.
He said that the fears originally harboured by some about how Arcadia would fare under his ownership had proved unfounded and pointed to his track record for employment and investment.
"A lot of people I think were concerned about what would be the transition from a public to a private company," he said. "A lot of those people are still in the team today.
"When I opened my first store in Conduit Street in 1979, I didn't think the journey would take me to where we are in 2012 with 3,000 stores. It takes a lotta, lotta people to make that happen. It's been a very fun journey. The spirit of what we wanted to achieve, we've achieved.
"We haven't been scared to invest. We've carried on inventing and creating."
Green flagged the strength of Arcadia's ecommerce and international operations as among the high points of the last year.
Ecommerce sales climbed 22% in the period, which included the launch of dedicated sites for countries such as France and the US.
Overseas, a Topshop store in Melbourne, Australia, is expected to have generated sales of £15m in its first year, which ends next month. In the US, a Los Angeles flagship is planned to open next spring.
ARCADIA RESULTS
Total sales £2.68bn (last year £2.68bn)
Group pre-tax profit, pre-exceptionals £166.9m (£133.1m)
Underlying UK retail like-for-likes -3.2%
Total like-for-likes -0.7%
52 weeks to August 25, 2012