Gap has accepted a returned item 17 years after it was purchased and one Morrisons shopper has gone ginger nuts.
Customer returns top to Gap…17 years after purchase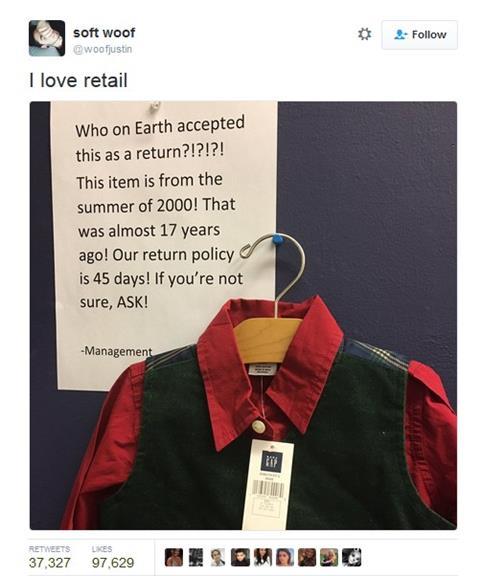 Retailers are familiar with the post-Christmas flurry of returns, as customers exchange unwanted or ill-fitting gifts.
However, one canny shopper pulled the wool over the eyes of a shop assistant at Gap.
The customer was successful in returning the item, pictured here, to the fashion retailer nearly 17 years after they bought it.
A presumably riled store manager responded to the glitch with this exclamatory note in-store.
"Who on Earth accepted this as a return?!?!?! This item is from the summer of 2000! That was almost 17 years ago! Our return policy is 45 days! If you're not sure, ASK!"
Hawes bookshop owner prompts complaints after charging 50p for entry
A retailer has become subject of complaints to the parish council for charging customers 50p to enter his second hand bookshop, Bloomingdales.
Bloomingdales' owner Steve Bloom refunds the entry fee to customers upon purchase of a book.
However, according to a complaint to the North Yorkshire authority, a customer who did not pay was branded a "pain in the arse".
Another customer said: "To me browsing in a wonderful bookshop filled with fascinating books, maps, postcards and other ephemera is worth 50p any day."
Morrisons shopper goes ginger nuts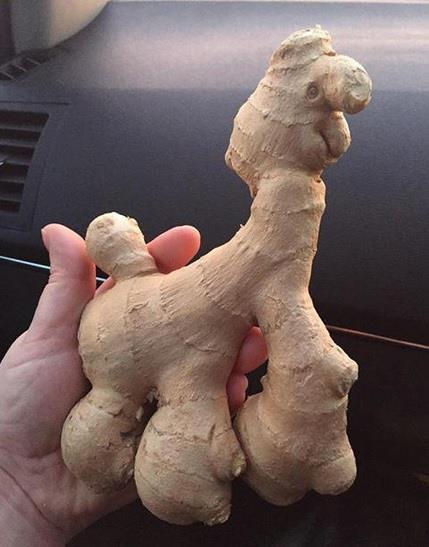 A Morrisons shopper must have thought she was going ginger nuts when she picked up this root at her local store.
Emma Dutton, from Aberdeen, was so amused by the llama-esque piece of ginger that she posted a photo of the unusual root veg on Facebook.
Emma said she "felt bad chopping him up" after taking it home to help make a soup.
After a Morrisons spokesman admitted it "put a smile on our faces", we look forward to the inclusion of its new garlic gorillas and coriander camels in its latest Price Crunch.