Before Asos, Missguided or even Zara, H&M was changing high street fashion with its democratic approach to trends.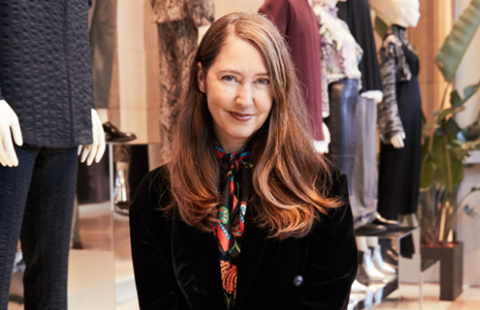 Founded in 1947, the Swedish giant grew slowly at first before exploding onto the global fashion scene in the 1990s. In the decades between, it became the biggest fashion presence on Sweden's high streets – the arbiter of what was cool for the nation's teenagers.
One of those teenagers was Ann-Sofie Johansson. Growing up in Ronneby, a quaint town an hour outside of Stockholm, her local H&M was the "heaven of fashion".
"They had everything I wanted, I could find anything there," she says. "If I thought that I wanted a pair of Sade gold hoops then I visited and they already had them."
The store was in the capital's fashionable southern part, Södermalm, and still stands there today, one of the global fashion brand's biggest shops.
Johansson with H&M's newest design partner Erdem Moralioglu and director Baz Luhrmann
Three decades later and Johansson has played a key part in transforming her beloved H&M into that global brand.
Despite the slightly woolly title of 'creative adviser', her influence should not be underestimated: she spent six years as H&M's head of design, having begun her career on the Södermalm shop floor.
Over those decades she has witnessed the design team at its Stockholm headquarters grow from between 10 and 15 people to a 300-person hub.
A big sustaining factor in that growth has been H&M's designer collaborations. It was not the first or last retailer to team up with designers but it has become the authority.
Every autumn since 2004, H&M has teamed up with a designer to launch a high street edit of their particular aesthetic, with the announcement anticipated in the fashion press for months beforehand.
Star power
"Usually we had a special ad at Christmas time which was kind of successful but it felt a little tired and we wanted to do something new," Johansson says of the decision to launch designer partnerships.
"But the designer collaborations were a bigger success that we could have never anticipated. We became a bigger player through that, and our special collections set us apart from our competitors."
"It has to be someone we admire as a designer but it also needs to be really fun"

Ann-Sofie Johansson, H&M
H&M's debut collaboration 13 years ago, when Johansson was womenswear concept designer, was with Karl Lagerfeld.
Credited as the saviour of Chanel, Lagerfeld is as removed from the high street as it's possible to be, even without the addition of his Blofeld-style Persian cat Choupette.
The antithesis of H&M, in other words.
The retailer was not optimistic about the chances of securing the feted designer but, fortuitously, Lagerfeld had been thinking along the same lines and wanted his designs to reach more people.
"It became such a big success that we had to continue," says Johansson.
During her six-year tenure as head of design, H&M collaborated with fashion houses as diverse as the androgynous Comme de Garçons and the hyper-glam Versace by way of insouciant French label Isabel Marant.
"It has to be someone we admire as a designer but it also needs to be really fun," she continues. "You can't be predictable. It's really good to have Versace one year and Comme de Garçons the next year. We admire both but they are completely different."
This year brings Erdem, whose romantic, delicate prints arrive in store on November 2, trailered with an advert by Moulin Rouge director Baz Luhrmann.
"Each year we ask ourselves if we should continue," says Johansson. "But it feels like as long as our customers like it then it's a win, win.
"It creates buzz and inspires us. Plus it's a really thrilling thing for the designer to reach so many more people than they usually do."
And that, in a nutshell, is the democratic power of H&M.