Primark's full-year sales are expected to be up 5.5% year on year, parent company ABF said in a pre-close update.
However, like for likes will be down 2% as unseasonable weather in Northern Europe hit performance.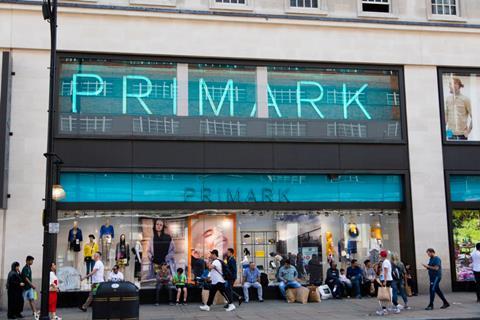 In its core UK market, Primark's full-year sales are expected to be 6% ahead of last year, and the retailer's market rose "significantly". Full-year, like-for-like growth is expected to be 1.5% "driven by a strong first half and a second half performance in line with an exceptionally strong second half last year".
While Spain, Portugal and Primark's first Italian stores "delivered very strong sales growth in the year", group like for likes were "held back" by Northern Europe where "unseasonable weather during the period led to difficult retail conditions".
Primark's operating margin in the first half was 9.8%, down from 10% in the comparable period last year.
Operating margin for the full year will be around 11%, versus 10.4% the previous year.
Primark has secured forward exchange contracts against all merchandise for the autumn/winter period.
ABF said: "Assuming that spring/summer is secured at current exchange rates we would expect the operating margin in Primark to be in line with this year at 11%.
"However, the exchange rate applicable to sales in the second half will be sensitive to sterling exchange rate volatility which is likely to arise given a period of intense Brexit negotiations."
Primark's selling space rose by 0.9 million sq ft this year when there were 15 net new store openings. It now has 360 stores trading from 14.8 million sq ft, compared to 13.9 million sq ft a year ago.
The retailer's Belfast store was devastated by a fire last month. ABF said: "All staff and customers were quickly and safely evacuated from the building. The replacement cost of the building and resulting business interruption is insured."