Personalised babywear company My 1st Years is forecasting sales will grow by over 103% to £6.5m during 2015 and it plans to enter the US.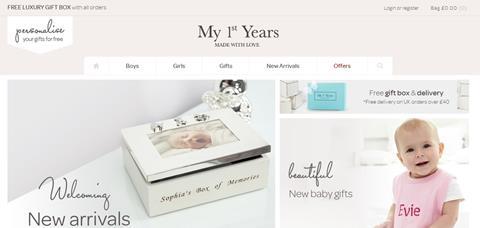 The company, which sells online, as well as through Selfridges and John Lewis, said that in the last 12 months, sales increased by over 137%.
It plans to trial its product offering in the US this year and in the last six months invested £350,000 in a warehouse move in order to improve systems to enable the business to service UK customers more efficiently.
"Being a British-baby gift company is a fantastic position to be in at the moment. With the second royal baby due in April, we look forward to seeing our sales and position within the market strengthening," said co-founder Daniel Price.
"The soon-to-be royal tot will offer us a lot of opportunities, just a Prince George did, and they're the ones we have to act on fast," he added, with the royal birth an opportunity that will help the brand reach out into new markets.
"We're really keen to sell worldwide, but that takes time, a lot of research, investment and very careful planning," added Price.
"We will be trialing online in the US during 2015 and hopeful that will be a springboard to help us retail globally."