Discount fashion retailer Pep&Co opened its first high street store in Kettering today and plans to open a total of 50 in a period of just 50 days.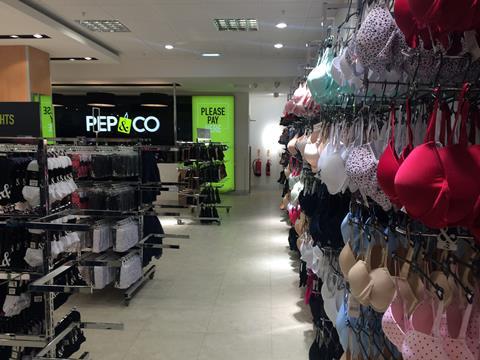 Established by former Asda boss Andy Bond and ex-managing director of Sainsbury's Tu clothing brand Adrian Mountford, Pep&Co's next opening in Cwmbran on July 13 will trigger the flurry of openings across the country.
From Maidstone to Middlesbrough, Derby to Dunfermline, Retail Week takes a look at the 44 confirmed locations for new stores as the challenger launches its ambitious assault on the high street.
Pep&Co's confirmed store locations
Ashton-under-Lyne: Units 11 and 12, Arcades Shopping Centre
Birkenhead: 32-36 Milton Pavement
Birmingham Yardley: Unit 6 Swan Shopping Centre
Bolton: Unit 28 Market Place Shopping Centre
Boscombe: Unit 10-11, Sovereign Centre , BH1 4SX
Boston: 3 Pescod Square Shopping Centre, PE21 6QX
Bristol: 25/26 Broadmead Gallery, BS1 3XD
Burton-upon-Trent: Unit 11, Octagon Shopping Centre, DE14 3TN
Chatham: Pentagon SC Unit 11, ME4 4HP
Chelmsley Wood: UG4-5 Greenwood Way Chelmsley Wood Shopping Centre, B37 5TT
Corby: 20 Willow Place, NN17 1NU
Cwmbran: 13/14 Gwent Square, NP44 1PB
Dartford: Unit 46-49, Dartford Priory Shopping Centre
Derby: 1 Albion Street, DE1 2PR
Dunfermline: Unit C Kingsgate Shopping Centre
East Kilbride: Units 8/9/10, Princes Square, G74 1LW
Eastleigh: 22 Swan Centre, SO50 5SF
Ellesmere Port: 22-24 Mercer Walk, CH65 0AP
Falkirk: Unit 12, Howgate Shopping Centre, FK1 1HG
Glenrothes: Units 39/41 Unicorn Way, KY7 5NU
Gloucester: 12-16 Bell Walk, Eastgate Centre, GL1 1XH
Grays: 26 West Mall, Grays SC, RM17 6QE
Hemel Hempstead: Unit 48/49 The Marlowes SC (Combined) , HP1 1DX
Hull: Unit 12-14 (65-67 on Goad) Prospect Street, Prospect Centre, HU2 8PP
Irvine: Unit 16a, Rivergate Shopping Centre, KA12 8EH
Kettering: Unit 20/22, Newlands Centre, NN16 8JA
Kirkcaldy: Unit 22/24 Mercat Centre, KY1 1NJ
Maidstone: 205-206 Water Lane, The Mall, ME15 6AR
Middlesbrough: LSU1 Centre Mall, Cleveland Centre
Newbury: Unit 1-3 + 5 Kennet Centre, RG14 5EN
Newport: 28 Kingsway Shopping Centre, Newport, NP20 1EW
Newton Mearns: Unit 15, The Avenue Shopping Centre, G77 6EY
Oldham: 29-30 Town Square
Paisley: Unit 55 B/C Piazza Shopping Centre, PA1 1EL
Redditch: 11 Walford Walk, B97 4HJ
Redhill: Unit 39/40 The Belfry Shopping Centre
Runcorn: 84 - 85 Forest Walk, WA7 2EU
Salford: 105/106 Mather Way, Salford Shopping Centre
Scunthorpe: SU21/22, Jubilee Way, The Parishes SC, DN15 6QX
Stretford: 38/40 King Street Mall, Stretford Shopping Centre
Sunderland: Unit 62, The Bridges Shopping Centre, SR1 3DR
Warminster: 17 Three Horseshoes Shopping Centre, BA12 9BT
Warrington: 5-7 Dewhurst Shopping Centre, Birchwood
West Bromwich: Unit 36d (91) Kings Square Shopping Centre, B70 7NW
Pep&Co said it would confirm opening dates for each store on its website.