Pep & Co has confirmed plans to open 50 shop-in-shops in its sister chain Poundland over the next 100 days.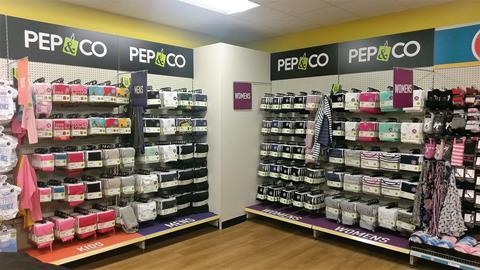 The discount fashion chain, which launched in the summer of 2015, will offer its full range of women's, men's and kids' clothing in Poundland.
Pep & Co is owned by Pepkor UK, a division of South African conglomerate Steinhoff. Poundland was acquired by Steinhoff last September.
Around 300 new jobs will be created with the roll-out, which starts next month. An extra 12 staff will also be taken on at Pep & Co's Watford head office.
Retail Week first revealed in November that Poundland was trialling elements of the Pep & Co fashion offer in two stores.
Concession sites
A Pep & Co spokeswoman said the "majority" of the Pep & Co concessions will be in towns where the chain is not currently present. Twenty-eight locations have so far been confirmed.
Northern Ireland, West Yorkshire, North Wales, East Anglia and London will be among the regions where Pep & Co will break new ground.
Pep &Co's managing director Adrian Mountford said: "By bringing Pep & Co to the largest Poundland stores we're giving people access to the brand much more rapidly than we could on our own."
Poundland has been under pressure after the distraction of acquiring rival 99p Store saw profits in its last full-year crash 13.5% to £37.9m.
It has also been broadening its pricing, with some items now being priced more than £1.