Footasylum's second profit warning in three months cements a dramatic fall from grace for the once-vaunted sportswear retailer.
The teen favourite listed on the junior AIM market less than a year ago in November 2017 and raised nearly £200m in the process, debuting at 164p.
At its first profit warning in June, that plummeted to 79p. At the time of writing, it is currently languishing at 42.3p. That's 74% of its value wiped from the slate in just 10 months.
Footasylum's debut went well for several reasons. Its 16- to 24-year-old customer sweet spot is seen as largely immune from the consumer confidence dip, its sales grew 92% in the two years before the float, and its brand relationships and online presence are both healthy.
"Footasylum's nightmarish start to listed life has to go down as one of the worst maiden years for a public business in living memory"
Then there's the management team. JD Sports founders John Wardle and David Makin were onboard for the float. Executive chairman Wardle has since retired and been replaced by former JD boss Barry Bown, with Makin continuing as an adviser. This is a business led by sports retail royalty who should know what they are doing.
However, Makin's daughter Clare Nesbitt was parachuted in as chief executive just six years after graduating from Manchester University with a 2:1 economics degree. She joined as a merchandising assistant in 2010 before becoming deputy chief executive in 2012 and taking the top job in 2015.
She was, for a short time, the youngest boss of any UK-listed company, aged just 30 when it floated – she has since been dethroned by James Ritchie, the 28 year old co-founder of engineering services company Tekmar.
It's not just her youth that marks her apart. At a recent analysts day, Nesbitt said she rarely spent time sitting in the office and instead preferred to live life as a customer, spending her days at gyms, sports events and festivals.
While it's admirable that she is taking to heart the old Harry Selfridge adage, perhaps keeping a closer eye on the home front would be advisable.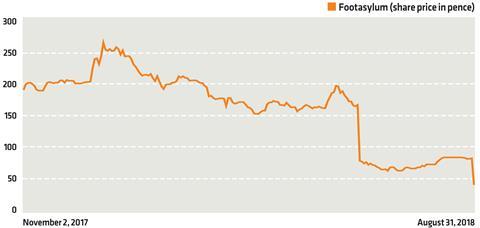 Weaknesses
Then again, the business clearly has underlying weaknesses and although Nesbitt obviously needs to do more to mitigate them, they are not purely down to her.
As Retail Week wrote at the time of Footasylum's float, the business, while strong at first glance, has several Achilles' heels. The first is that its sales rely heavily on powerful, third-party brands such as Nike, Adidas and New Balance. As the direct-to-consumer trend continues to gather pace, this presents a real danger to the retailer.
The second is JD Sports. The sportswear giant's scale and dominance of the market make expansion and sales growth more difficult for Footasylum than it otherwise would be.
The third is that, according to some experts, the booming athleisure market, against which Footasylum grew so rapidly, might be running out of steam.
All in all, Footasylum's nightmarish start to listed life has to go down as one of the worst maiden years for a public business in living memory. Given the current climate, that is really saying something, with only MySale and supplier Bagir coming close.
One very incisive analogy, as noted by veteran analyst Nick Bubb, is that investors have been "sold a pup".
For those not up on their medieval etymology, that phrase originates from an old confidence trick used by traders at a time when meat was scarce but domestic animals were not. Customers were sold a cloth sack containing what they were assured was a suckling pig but which often turned out to contain a cat or dog.
Unfortunately for Footasylum investors, it rather looks like the cat is out of the bag.