The honeymoon period is over for M&S boss Steve Rowe after he revealed a sharp fall in profits and saw the retailer's share price dive last week. 
The man reportedly nicknamed 'Nails' will have known the microscopic scrutiny that comes with being boss of the bellwether, having watched from the sidelines during his 30-odd-year career at M&S.
Even so, when you are in the eye of the storm you can never be sure of how you will react. And though it is not yet a full storm, there are certainly dark clouds hanging over the 132-year-old retailer.
"There is a lot of love for the brand among its core demographic. The challenge remains in convincing younger shoppers to think of M&S as a destination beyond somewhere to pick up essentials"
In its full-year figures last week, Rowe warned that M&S's profits will take a hit in the short-term as it re-adjusts. It seems like a sensible move. He may have been perturbed by the hit in the share price, which tanked around 10%, but he should at least be given leeway as a new broom.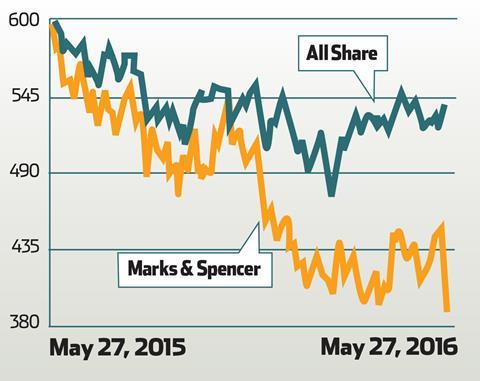 His focus, inevitably, is on M&S's struggling clothing and homewares division. The plan here is to cut the number of promotions and instead offer more "core value" fashion items. He also plans to simplify the ranges and cut the number of SKUs by around 10%. In a bid to cut the jargon to appeal to customers more, losing the term "general merchandise" is also welcome.
At a press conference, Rowe, who appeared calm and measured, talked much about reconnecting with customers and listening to their concerns. And judging by a BBC vox pop, cutting the number of in-house labels seems sensible as the majority of women interviewed could only name Per Una out of M&S's own brands.
'Mrs' mis-step
The problem is retaining these customers and attracting new ones. As Rowe noted, 60% of women are buying less clothes than they were 10 years ago. An attempt to identify the retailer's core customer as "Mrs M&S" – a 50-plus woman who shops at M&S 18 times a year – fell slightly flat and provoked a social media backlash.
But, as Rowe highlighted, M&S still has 32 million customers.
There is still a lot of love for the brand among its core demographic. The challenge remains to convince younger shoppers to think of M&S as a destination beyond somewhere where you can pick up essentials, such as underwear and T-shirts.
Clearly, M&S can learn something from its food proposition where the variety and innovation of its own-label brands continues to delight shoppers. However, translating this approach into the vastly different fashion sector is a hard task.
What is refreshing about Rowe is the clear-headed nature of his approach and an acceptance that there is a problem. He has called the performance of clothing and homewares "unsatisfactory" and warned that there will be short-term pain.
Painful times
Of course, in the wider context of fashion retail, M&S is not alone in feeling the pain. Rowe's rival at Next, Lord Wolfson, has warned that this year will be the toughest since 2008.
For now, Rowe will be given breathing space. He has also promised to reveal the second part of his overhaul strategy in the autumn, which is likely to include plans to cut its UK store estate, a "cost review" and an outline for its international strategy.
It is in communicating these changes, and the response, that will reveal exactly how Rowe will cope with the pressures of such a high-profile position.