Manchester etail phenomenon Boohoo will report its final results next week and is expected to reveal soaring sales and profits.
Broker consensus is that revenues will rocket more than 90% to around £570m while pre-tax profit is expected to climb 35% to £42m.
But the growth story has been questioned in recent months by market worries that boohoo is due a margin "reset". Some believe that the business has underestimated how much investment is needed to keep it ahead of the fast-changing fashion game.
That, together with a half-year revision of margin guidance from between 10% and 10.6% to between 9% and 10%, led to shares falling by around a fifth in the week following its interim results last September.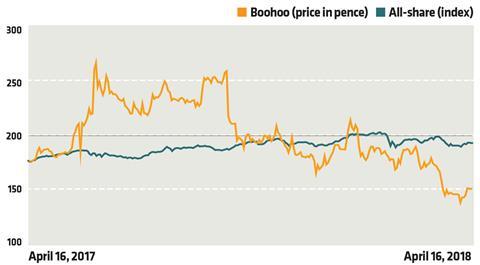 But that panic hasn't appeared to worry some investors. In February, Richard Watts, who runs big Boohoo investor Old Mutual, told Reuters that he believed that the margin debate was a "storm in a teacup".
His sentiment was echoed in a note from broker Peel Hunt this week, in which the analyst double act John Stevenson and Jonathan Pritchard set out their view that Boohoo was already ploughing enough investment into the business and that concern over further investment being required is overdone.
Given that management plans to spend £257m over the next three years – up from £52m over the last three years – they have a point.
Boohoo vs Asos
Of course, when you compare Boohoo to one of its closest competitors, Asos, you can see why some might think margin has further to fall.
Asos is investing close to that this year alone. And the market reacted poorly to Asos' announcement last week that it would be increasing investment even more.
"As a platform, Asos needs to offer the strongest customer proposition. Boohoo needs to be competitive, but not a thought leader"

John Stevenson and Jonathan Pritchard, Peel Hunt
On the comparison between the two etailers, Stevenson and Pritchard make a good point – Asos may be a competitor, but it's a very different business.
They observe that some commentators are taking the Asos EBIT margin of 4% as being the sort of return that Boohoo will end up delivering in order to provide adequate investment for its medium-term growth aspirations.
But they say: "We view Asos as a platform and Boohoo as a brand, meaning both businesses require very different strategies.
"As a platform, Asos needs to offer the strongest customer proposition. Boohoo needs to be competitive, but not a thought leader."
This distinction is brought into starker relief when you consider that Boohoo sells on Asos and so can rely on it for funding certain hi-tech innovations such as Asos Instant, the same-day delivery service currently being tested in major UK cities, and augmented reality tech, which Asos uses to show how a product looks on different body types.
Boohoo does, of course, need to maintain its edge. Last year, the business raised £50m through a share sale, which it plans to put towards a £150m automated 'super site' distribution centre, which will provide it with more than £2bn sales capacity. There may well be news of that next Wednesday.
But what the business needs to focus on most is balancing investment and margin while maintaining a keen eye on its fashion-forward capabilities. The etailer has become the queen of fast fashion – of dresses bought one day before a party and left to languish in the backs of wardrobes after a couple of nights out.
Whether that's a model that will continue to appeal as sustainability crosses from the Guardian-reading self-appointed intelligentsia into the mainstream consciousness is a question that must be asked. But that's a debate for another day.
Becky Waller-Davies is Retail Week's senior reporter.