Next interim pre-tax profits fall 1.5% to £342.1m
Retail sales edge up 0.1%, as directory sales grow 7.1%
Next says it will increase prices next year and expects "manageable" drag on sales
Next has reported a dip in pre-tax profits during the first half of its financial year and unveiled plans to increase prices in 2017.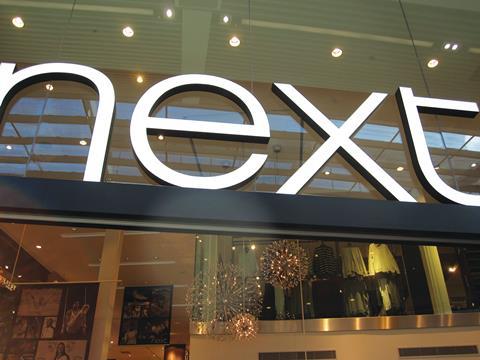 The fashion giant said pre-tax profits fell 1.5% to £342.1m in the six months ending July 31, as its directory business outperformed retail stores.
Retail sales remained flat at £1.08bn, but profits dropped 16.8% to £133.9m during the period.
Next said new space contributed 2.8% to growth, with full-price sales tumbling 3.2%.
In comparison, directory sales grew 7.1% to £821.2m as profits in the division grew 10.9% to £204.2m. Full-price sales advanced 5.5%.
The high street bellwether said net operating margin on total sales has fallen from 14.9% last year to 12.4% this year as it unveiled plans to increase prices in 2017.
Price rise
Next warned in August that it expected cost prices to jump 5% next year, in light of the recent devaluation of the pound following Britain's vote to leave the European Union.
It estimated that a 5% increase in the retail selling price would spark a like-for-likes dip of between 0.5% and 1%, as well as a 5.5% fall in unit sales.
But the retailer said: "In the scheme of things, we think that this drag on sales is manageable and less damaging than taking a significant hit to margin."
Next added that it plans to increase net trading space by 350,000 sq ft in its current financial year, taking its portfolio to 8m sq ft – more than it had forecast in March – by bringing forward store openings that were originally planned for 2017/18.
However, store numbers will remain "broadly the same", with the increase in new stores to be offset by the closure of "smaller, less profitable" shops.
Next said it viewed taking new space as "one of the few ways to mitigate losses from negative like-for-like sales."
'Challenging and volatile'
Chief executive Lord Wolfson, who previously warned this year would be the retailer's toughest since 2008, said: "As expected, it has been a challenging year so far, with economic and cyclical factors working against us, and it looks set to remain that way until mid-October at the earliest."
He added: "There has been some talk of a general retail bounce in July and whilst Next did enjoy very strong sales in July, this was driven by a much larger end-of-season Sale.
"Full-price sales in July remained subdued, so we do not believe that July trading represented any change in underlying consumer spending patterns."
Wolfson warned that trading since the end of Next's first half-year had "remained challenging and volatile", but maintained its full-year sales guidance.