Next sales jumped 2.3% in its first half as it revised up full-year profit forecasts after adding £10m to its earnings through more full-price sales and lower markdowns.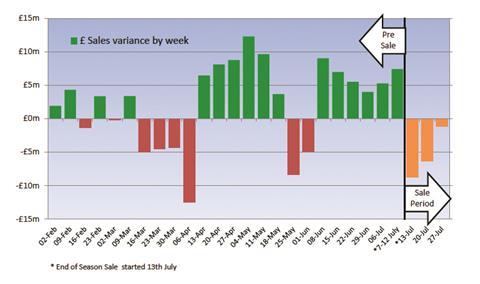 In the 26 weeks to July 27, sales at Next were driven by its directory business, which was up 8.3%, while its retail sales slipped 0.9%. Overall sales came in at the mid-point of its forecasted 1% to 4% growth.
In the weeks before the Sale up to July 12, turnover was up 3.7%, again driven by its directory business, which surged ahead 9.9% while sales across its stores were flat.
In both occasions 1.8% of sales were down to new stores.
Next has revised full-year profit guidance up as a result of its increased profits in the period. Now the retailer expects to generate pre-tax profit at year-end of between £635m to £675m, up 2.2% to 8.6% on last year. Previous forecasts were to generate pre-tax profit of £615m to £665m, a 1% fall to a 7% rise in sales year on year.
Next said: "Full-price sales for the first 26 weeks were in the top half of our full-year forecast. More importantly, the reduction in residual stock resulted in much lower markdown costs. The combined effect of higher full-price sales and lower markdown has added £10m to our first-half profits and accordingly we are raising and narrowing our guidance for the full year."
Next said a smaller Sale ensured full-price revenues were better than the headline figure. The retailer went into the Sale with 20% less stock than last year and said clearance rates "improved" while markdown sales were down 13%.
Next said the second quarter of the year was as volatile as the first quarter as consumers shop more "spontaneously" due to school holidays and the weather.