Next sales edge up 0.4% during Christmas trading period
Retail sales fall 0.5%, directory sales rise by a "disappointing" 2%
Next blames warm winter, poor stock availability within its directory and "tougher" competitive environment online
Next sales edged up 0.4% ahead of Christmas as mild weather and "poor stock availability" within its Directory business dented performance.
Full-price retail sales fell 0.5% between October 26 and December 24, while Next Directory sales grew by a "disappointing" 2% during the period.
The sales rise of 0.4% was well below Bloomberg consensus of +5.8%.
Next is the first high street retailer to report its Christmas trading figures this year. Its results suggest it could have been another tough trading period for the rest of the sector, given that the fashion giant has outperformed the market during the festive season in previous years.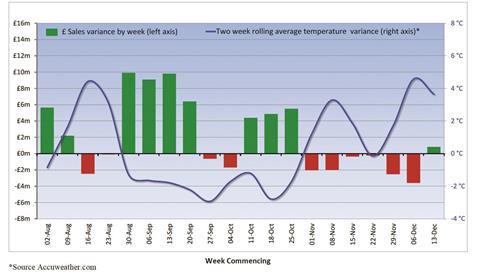 Next said its below-par fourth-quarter performance was "mainly down to the unusually warm weather" in November and December, but admitted it did not want that to "mask any mistakes and challenges faced by the business".
The retailer, which did not offer discounted prices at any time ahead of its end-of-season Sale, added poor stock availability from October onwards hit its Directory sales, while the online propositions of its rivals caught up with its Directory offer in a "tougher" competitive environment.
Full-year guidance
Next edged down its full-year group profit guidance to £817m off the back of its Christmas performance. This falls at the lower end of the £810m to £845m guidance it issued in October.
However, it admitted this "might increase or decrease by £7m" depending on trading during January. A full-year profit of £817m would represent a 4.4% uplift on last year.
Next said full-price group sales in the year to January 2 were up 3.7%, below the 4% to 6% growth it forecast in October following the slower Christmas trading period. Next Directory was ahead 6.1% on the year, while retail sales grew 2.1% in the year to date.
The retailer said "good control" of margins, costs and stock, along with "healthy" clearance rates meant full-year profits were still expected to fall within its October guidance.
It expects full-price sales growth in the year to January 2017 to be between 1% and 6% and said profits would increase "in line" with sales.
John Lewis Partnership and Marks & Spencer will post their Christmas trading updates on Wednesday and Thursday respectively, before a clutch of retailers including Tesco, Sainsbury's, Debenhams and Asos report next week.