Next has reported a 5% uplift in full-year profits but boss Lord Wolfson warned of a negative outlook. Here's what the analysts say.
"There is merit for management to guide cautiously ahead of the UK referendum on EU membership on June 23 but we were a bit surprised by the aggressive management of expectations without the company itself doing fundamentally badly.
"Clothing sales are actually doing better to date than they did in the two last months of 2015, according to BarclayCard data.
"We believe that management today chose to be disproportionately cautious to cover all negative scenarios and leave any positive surprises as an option.
"Nonetheless at least until June we expect shares to be at best volatile but long-term investors may find an interesting entry point." – Christodoulos Chaviaras, Barclays
–
"A relatively muted, but nonetheless impressive, performance from high street stalwart Next. The retailer's emphasis on addressing problems with availability that have plagued it over the last year are showing early positive results.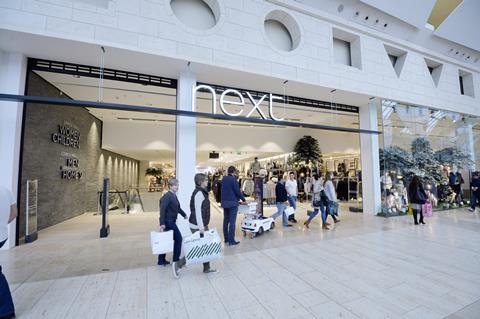 "The retailer must continue to take more risks with buying and design, buying closer to the season, and being more flexible with phasing, both of which it admits will require a big cultural shift internally.
"While Next's online offer and fulfilment options remain one of the strongest on the high street, competition from rivals has intensified. Next must become more agile in terms of product availability and newness, especially as it acknowledges consumers have switched to buying more from mid-season 'new-in' ranges.
"Its recent move to optimise its website for mobile and tablets is a step in the right direction, and aligns it better with customers' changing shopping habits." – Nivindya Sharmam, Verdict Retail
–
"Next remains a high-quality and strongly cash generative retailer, notwithstanding today's lower guidance on sales and profits and the ongoing debates about the pressures on its credit business. That said, the shares will undoubtedly be marked down heavily on the back of today's newsflow.
"It should also be noted that Next has a tradition of conservatism on its guidance, and admits that a cold wiinter this year would give upside risk to its guidance." – David Jeary, Canaccord Genuity
–
"The mood music from Next is changing; a cautious and slightly negative view of the macro backdrop is not unusual for Next, although now underlying growth expectations are also slowing.
"Negative sentiment on the outlook from Next is likely to weigh heavily across the sector.
"In addition, an early Easter with relatively poor weather conditions also means a slow start to spring/summer in apparel too." – John Stevenson, Peel Hunt
–
"We believe that today there will be a downgrade and a derating move in the shares. We would also note that Next has indicated that its buy-back capacity for the current year after the January buy-back activity and payment of a special dividend in January will be £112m. They spent £150m in January alone.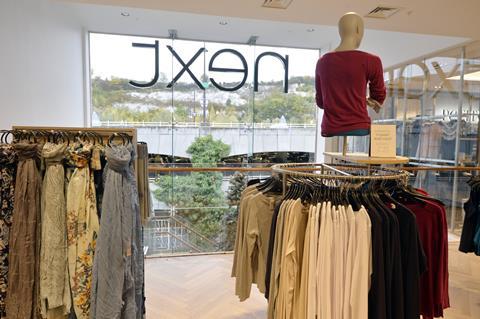 "We suspect that this is their way of saying that they think their own shares are too expensive given the risks involved in the near term.
"For now most attention will be on the analysis of the UK Directory. As we have said frequently and recently Next has been pushing the Directory very hard over the past couple of years to compensate for the weakening of the credit business that has formed the basis for growth post 2010.
"Today sees the first real sign of unwinding of that strategy as management acknowledges that the model needs a fairly major re-build rather than over-stimulation in its legacy form.
"The issue for investors is whether this can be done easily or whether we are seeing a major re-positioning that will take a long time and involve a major investment.
"Clearly this is also against a backdrop of being in a part of the industry developing fast. So we know that Directory is not fit-for-purpose and that it will take some time before it is reset. There is clearly a risk that even after this it will be playing catch up." – Tony Shiret, Haitong
–
"Directory growth is slowing, recent initiatives, including the UK Label and overseas development will not make up for the shortfall while the online competitive environment is getting tougher.
"The company will also, we believe, make less profit from its credit card." – Freddie George, Cantor Fitzgerald
–
"The two key questions were how cautious chief executive Simon Wolfson would be about the trading outlook for Next Directory and whether he would put his views on Brexit in the statement.
"Well, he wisely avoids anything controversial, but the tone otherwise is set by the early headline in the press release about "The year ahead may well be the toughest we have faced since 2008".
"And he ends by saying that "It may well feel like walking up the down escalator, with a great deal of effort required to stand still. It will not be the first time we have felt this way, and our experience is that the effort put into improving the business in tough times can pay handsome rewards when conditions improve." – Nick Bubb, independent retail analyst