Retailer to open JD Pro fascia in the City to appeal to wealthy sports enthusiasts.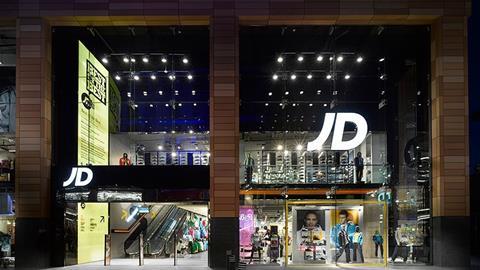 JD Sports Fashion is launching a fascia targeted at the performance sports market that will fill the gap left by JJB Sports and take on Sports Direct.
The new format, JD Pro, is to debut on Bow Lane in the City of London to tap into a customer base of well-off sports enthusiasts.
The store will be focused on running and football gear, as well as other sports including rugby, golf and basketball.
The 8,000 sq ft former Next store is scheduled to open next month, just weeks after rival JJB Sports collapsed into administration, which resulted in the closure of 133 shops and the loss of 2,000 jobs.
The launch of JD Pro will be viewed as an attempt to prevent Sports Direct from mopping up the sports goods market, which this year is expected to be valued at £8.8bn, according to Verdict. Tycoon Mike Ashley's business cemented its dominance in performance sports by acquiring 20 JJB stores when the latter went bust.
In recent years, JD Sports has concentrated on sports fashion, but JD Pro's focus on activities such as running will put it head to head with Sports Direct's shop-in-shops SheRunsHeRuns.
The JD Pro store is another example of the retailer's diversification. It has acquired numerous businesses to extend its reach into various categories as well as overseas markets. This year it acquired outdoor specialist Blacks, after snapping up Spanish sports retailer Sprinter in 2011 and French specialist Chausport in 2009.
It is not known how many JD Pro stores the retailer intends to open.
N+1 Singer analyst Mark Photiades said that following JJB's disappearance there is a gap in the market that JD could exploit, but that it faces competition not just from Sports Direct but from specialists and independents.
"It's always been competitive but, if they can make it work, there's a space for them in that market," said Photiades.
JD Pro's success will hinge on its product range, he said, and the retailer's effective store merchandising should work in its favour.
"That's a huge differentiator compared to what Sports Direct offers," said Photiades. "If they can offer an environment inviting to sports enthusiasts it could prove quite attractive."
But he was cautious about locations of any further openings. "In the City it could go down quite well, but whether it will do so well in Rotherham remains to be seen," he said.
Property agent GCW acted for JD. CBRE acted for Next.
JD Sports Fashion declined to comment.