N Brown was carried by its financial services performance in its half years with product revenues falling.
Financial services revenues rose 12.7% to £146.4m while sales fell 3.1% to £304.5m. Group revenue climbed 1% to £457.8m.
Pre-tax losses shrank slightly, going from £27.6m to £27.1m in the 26 weeks to September 1. Adjusted pre-tax profits were down 5% to £30.6m.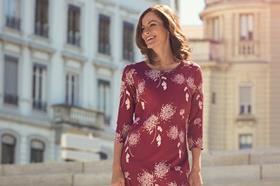 The business' three power brands generally performed well with online revenue up 8.6%. Simply Be sales rose 8% and Jacamo was up 2.7%, but JD Williams fell 3.1%.
N Brown ousted its chief executive Angela Spindler last month, saying that it needed to find "a new leader who can take the business forward through the next phase of its development".
Chairman Matt Davies said today: "Whereas much progress has been made transforming the business into an online retailer, we have not yet achieved the growth in product or international that we would have hoped for."
The business' international revenue fell 7.9% to £15.3m as the group shifted from offline to online marketing. The expected downturn in offline revenues was not matched by online growth.
As a result of this this underperformance, N Brown appointed a new management team, reappraised its digital marketing strategy and appointed new third-party providers.
Davies added: "We have a strong base on which to build. Over three-quarters of our product revenue is now online and we have industry leading expertise in fashion that fits. This is supported by a strong financial services business. Our goal of becoming a world-class digital retailer remains unchanged."
Financial services boss Steve Johnson is interim chief executive.