N Brown has issued its second profit warning in six months after "tactical and strategic" price investments.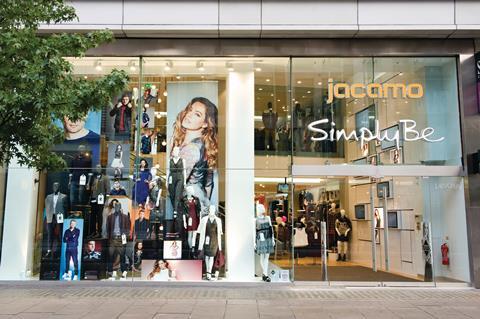 The plus-size fashion retailer said full-year profit before tax is now expected to be "slightly" below expectations of £88m.
In its fourth quarter to February 28, the online, catalogue and stores retailer said margins were hit by its discounting activity, as it wanted to exit the season with less stock.
The retailer said: "The strategic price moves were successful, both in terms of driving volume and overall customer response. We have therefore decided to continue them into full year 15/16 as we strengthen our value position further in line with our overall strategy."
Angela Spindler, chief executive said: "Whilst we are disappointed by the slower-than-anticipated progress from a profit perspective, this is because we are taking the right decisions now – in some areas earlier than anticipated by our previous profit guidance – in order to build a better business for an online world. We enter our new financial year with huge enthusiasm about the exciting journey ahead."
"This year has been the year of heavy lifting, lots of changes and the numbers shared for Q4 are real evidence the business model is moving in the direction of something modern, and is the foundation for future growth," she added.
Net debt is expected to be in the region of around £250m.
The plus-size fashion retailer said full-year sales were flat year on year, while full-year percentage gross margin was in line with expectations, which includes the impact of tactical and strategic price investments in the last quarter.
The retailer has decided to close the small Gray & Osbourn catalogue business as part of a review into future profits, but it will have an immaterial impact on the continued profit-before-tax predictions for 2014/15.
N Brown said: "This process is ongoing, but is likely to result in exceptional costs of around £11m to £13m in full year 14/15. At least £8m of these exceptional costs are non-cash."
Fourth quarter
Meanwhile the retailer said trading momentum has recovered well from a challenging Autumn as it reports an increase in fourth-quarter sales of 3.6%.
Spindler said she was encouraged by the momentum seen during quarter four. She said it was "one step backwards" from an operating profit perspective, but "two steps forward" for fundamentally changing the business mode to drive future growth.
"Combined with our continued product improvements, during the period we decided to invest more in price; this proved successful, with product volumes returning to double-digit positive growth for the first time in many years," she added.
"We have also accelerated our strategic transformation programme and commenced a major extension of our warehouse to support our future growth. The transformation we are driving is fundamental and necessary for future long-term sustainable growth.
The retailer also reported acceleration in online sales to 62% in the fourth quarter, from 59% last year.
It said its "power brands" including JD Williams, Simply Be and Jacamo performed strongly, with customer growth of 5%. Additionally its fourth quarter product volume increased by 11% driven by further product improvements and price investment – the first time product volumes have seen double-digit increases for many years.
It also reported its lowest level of customer debt arrears on record.
Meanwhile, its performance in the US is "in line with expectations", and since July the retailer has been live with a third-party credit provider in the US, which has led to "very encouraging early results in customer loyalty and retention rates."