Luxury retailer Mulberry has reported an 86% slump in full-year pre-tax profits, but said it has seen a "positive uplift" in sales since November.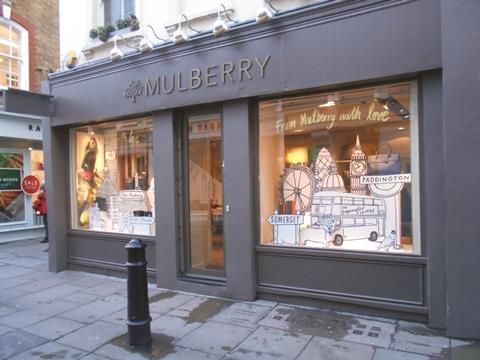 Pre-tax profits slide 86% to £1.9m
UK retail sales drop 7% to £74.7m
Group operating profits drop 88% to £1.7m
Sales of Mulberry's handbags dropped in the UK and internationally following its ill-fated attempt to offer a more upmarket proposition, raising the prices of its products in the process.
But chairman Godfrey Davis said the retailer and brand has started to "re-engage" with its customers after implementing a new strategy last year to return to its roots. Davis added that the change of direction had already "delivered promising results."
Mulberry's pre-tax profits for the year ending March 31 plummeted to £1.9m, down from £14m in 2014. That was driven by a 7% drop in UK retail sales to £74.7m, while its wholesale business saw revenues fall 29% to £38.8m. Total sales for the year dropped 9% to £148.7m.
But after focusing on more affordable items, Mulberry said trading improved during the second half of the year. The retailer claimed sales performance had been improving since November and said like-for-like retail sales rose 15% in the 10 weeks to June 6. Total retail sales in the 10-week period were up 17%.
During the year, four new stores were opened in the US and Germany, one concession was opened in France and the firm's Stansted Airport store was temporarily closed due to the redevelopment of the terminal. Mulberry now has were 70 directly-operated stores, up from 66 last financial year.
Online sales, which now account for 12% of group sales, were up 15% to £18m for the year.
Mulberry also opened four new international stores and one concession as it presses ahead with its overseas expansion plan.
Mulberry chief executive Thierry Andrettasaid: "I am pleased that the strategy we approved as a board last year is beginning to bear fruit. We are committed to strengthening our position in the UK whilst continuing to pursue our international growth strategy."
He added: "We are focused upon translating the luxury values and Britishness of the Mulberry brand to a global audience."