MPs have slammed Sports Direct for "callously and deliberately" giving USC workers just 15 minutes' notice that they were losing their jobs.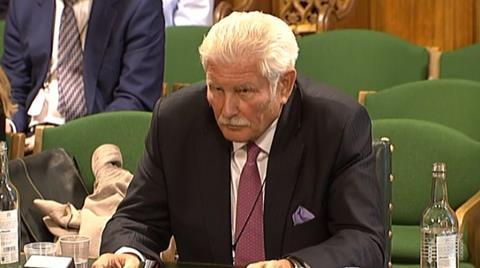 The claim was made as Sports Direct chairman Keith Hellawell was grilled by the Scottish Affairs Committee about USC's administration, the use of zero-hour contracts and pension payments.
USC was put into administration earlier this year before being bought out by Republic.com, itself a Sports Direct business.
About 200 USC staff at its Ayrshire warehouse were given just 15 minutes' notice before losing their jobs.
Ian Davidson MP insisted there was no need to close the warehouse as part of the USC pre-pack administration and said it could have remained open to stock textiles sold at Sports Direct.
Davidson said Sports Direct had "callously and deliberately developed a situation where these employees got 15 minutes' notice."
He maintained that the pre-pack of USC "might have been legal but as far as I can see it certainly isn't moral" and said Sports Direct bosses "took the opportunity" to close the warehouse when "it wasn't driven by the pre-pack at all".
Hellawell admitted Sports Direct could have consulted staff properly, but did not. He said that the retailer's relationship with the warehouse landlord had "broken down" and the lease was to expire within a year – both of which led to a "business decision" to shutter the warehouse.
Hellawell also insisted that the board did not know about executives' intentions to put USC into administration until the 11th hour.
"I don't know why I wasn't told," he said.
Simon Reevell MP said that Sports Direct's attempts to negotiate with suppliers and the warehouse landlord by withholding payments "sounds like some sort of backstreet outfit".
Hellawell promised he would ask "searching questions" of Sports Direct executives over the tactic.
Zero-hours
Hellawell was also questioned on Sports Direct's use of controversial zero-hour contracts, which he said almost 15,000 staff were employed on. He told the committee that just 4,350 of its 19,000 employees are permanent, salaried staff.
He said that abolishing zero-hour contracts would "adversely affect" the retailer because it would "take away the flexibility" of its workforce. He also claimed it would lead to a loss of jobs at Sports Direct, but insisted the retailer is looking at the future of the contracts in light of criticism and upcoming law changes.
The committee also grilled Hellawell on Sports Direct's pension payments - it paid an average of just £82 into each employee's pension in 2014.
Hellawell said: "We don't have a company pension scheme, but we are obviously subscribed to the national pension scheme for all employees.
"As far as those figures are concerned, we pay what we have to pay."
Where's Ashley?
Owner Mike Ashley's presence was requested by MPs as part of the investigation, but he refused to attend, sending Hellawell in his stead. He has since threatened the MPs with legal action for 'breaching his human rights'.
When Hellawell was unable to answer some of the committee's questions, Davidson said: "We wanted Mike Ashley. He sent you to answer, and clearly you can't – we should have had some of the people who could answer in front of us."
Hellawell told the committee that Ashley would be prepared to meet MPs at a later date.