Under-pressure Morrisons is poised to go head-to-head with supermarket rivals in the hard-fought grocery fashion market as it plots an adult clothing range.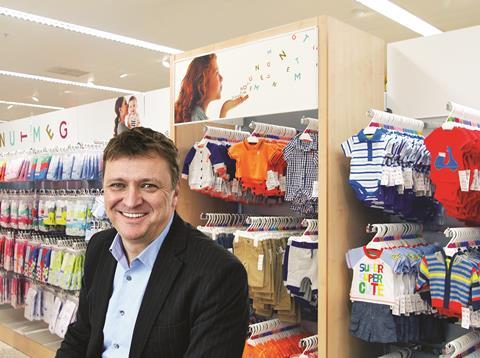 The grocer is to significantly extend its new kids' clothing brand, Nutmeg, into adult ranges next year.
Morrisons' first commercial director for clothing, Tim Bettley, told Retail Week that, while the details were yet to be ironed out, the retailer will branch into adult "wardrobe essentials". "I wouldn't rule out any particular product type," he said.
He added: "We have real ambition for the Nutmeg brand, my vision is for Nutmeg to be a big part of Morrisons' offer in the future. Of course it will take time but why shouldn't we aim to be the size of the other brands in the sector?"
Tesco's F&F label, worth more than £1bn, and Asda's estimated £2.3bn George brand, have built significant multichannel businesses comprising ecommerce, in store, and overseas standalone shops.
Supermarkets accounted for 9.8% of the £34bn clothing, footwear and accessories market in the 52 weeks to April 14, according to Kantar Worldpanel. Morrisons has identified that 3 million of the 11 million shoppers who visit its stores each week turn to rival supermarkets for clothes.
Nutmeg landed in 100 Morrisons stores in March in 1,000 sq ft areas predominantly devoted to kidswear, but they also include a limited number of basic adult lines such as tights, underwear and socks.
A Nutmeg ecommerce offer is expected next year, which will provide a "springboard" for a full adult clothing launch, according to Bettley. He said trading online will "enable us to expand our ranges in an arena where space is not an issue". The former Peacocks managing director said Nutmeg's women's and men's clothing will have an "emphasis on fit and quality but at outstanding value for money. I never see us as fast fashion." He added: "We would not be fashion innovators but would look to develop the key items of the season."
Garments are expected to include trousers, tops, jumpers and dresses.
Bettley said customer feedback on the kids' range had been "fantastic" and it is now in 120 stores with plans to roll out to a further 80 this year.
Morrisons' online clothing launch could steal a march on Sainsbury's Tu apparel brand, which is only sold in stores. Bettley said there are no firm plans for the online launch but discussions have begun and he hopes the digital offer will be available in the next 12 months. Nutmeg products will also be sold through Kiddicare online and are already in the baby specialist's stores.
Nutmeg will be sold on Morrisons' yet-to-launch non-food transactional website, separate from the grocery site it will launch with Ocado which Bettley said has put Morrisons "in the fast lane" of etail.
Morrisons has been under pressure from the City after five consecutive months of like-for-like decline.