EBITDA down
Current trading encouraging
"Still a big job to do," says chief executive Paul Allen
Monsoon has suffered another drop in full-year profits and sales, Retail Week can reveal.
Chief executive Paul Allen said that the retailer had experienced a challenging year, but hailed current trading as evidence that its turnaround strategy was working, although much remains to be done.
The fashion retailer's EBITDA fell to £20.3m for the year ended August 27 2016, down 16.4% from £24.3m the previous year.
Operating losses shrunk dramatically, but that was affected by goodwill amortisation in the previous year, which skewed the numbers.
Total sales were £422.1m down 9.2% from £464.9m.
UK like-for-likes tumbled 6%, while total UK sales fell 6.8% to £311.9m.
International territories also proved tricky for Monsoon over the year. Total turnover from its overseas stores and franchisees fell 15.5% to £110.2m.
Turnaround efforts
Monsoon withdrew from underperforming markets including Singapore, South Korea and Venezuela during the year as part of its effort to focus on better-performing markets.
Despite moves to streamline its overseas operations, Monsoon said that the international outlook remained "challenging", particularly in the Middle East.
The retailer is in the midst of a significant turnaround programme, set out in 2015, that will continue for a number of years.
Allen told Retail Week: "We are pleased at the way things have developed, but we recognise that there is still a big job to do. The building blocks are in place but we now have a lot of ground to cover."
Allen said that the retailer was happier with current trading, particularly in womenswear.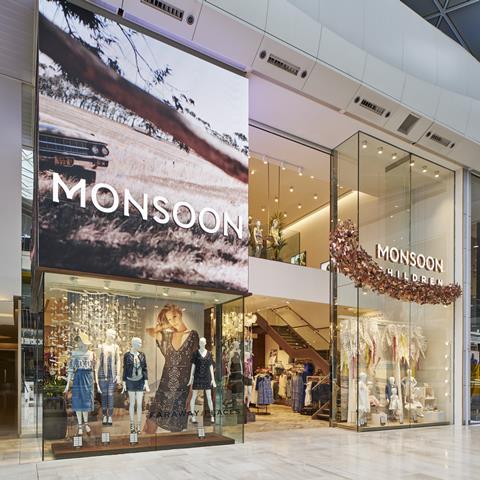 That area of the business has been dogged with difficulties in recent years, but Allen told Retail Week that current trading in this category was "significantly" better on a like-for-like basis.
The retailer's extensive turnaround strategy involves separating the identities of the Monsoon and Accessorize brands, reshaping its property portfolio, adding new market channels such as concessions in Debenhams, developing its online capability and strengthening its management team.
It is currently in the process of closing underperforming dual fascia stores as it creates more distinct identities for the Monsoon and Accessorize brands.
Monsoon owner Peter Simon installed Allen as permanent chief executive in January 2016, after he had held that role on an interim basis.
Allen, who was formerly boss of Jacques Vert, joined the retailer in 2013 as finance director and took over as chief executive when John Browett departed for Dunelm.