Luxury ecommerce site Moda Operandi has pulled in $60m (£39m) of funding, with the US etailer plotting to bolster its presence overseas.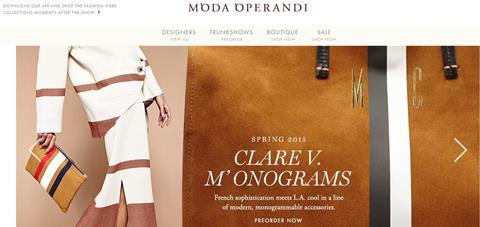 Moda Operandi, which launched in 2011, enables shoppers to pre-order collections straight from the catwalk before they go on sale the following season. It has so far raised $130m (£84.5m) in series E funding.
The company said the latest investment would be used to grow its presence in key markets such as Europe, Asia and the Middle East, improve its mobile technology, loyalty programme and customer acquisition, and develop new brand relationships.
The financing was led by asset manager Fidelity Investments, with investment also coming from existing shareholders including New Enterprise Associates and Advanced Publications, the parent company of Conde Nast.
Other current shareholders include New Atlantic Ventures, LVMH and RRE Ventures.
Moda Operandi chief executive Deborah Nicodemus said: "The continued success we have experienced demonstrates the strength of international luxury consumers and their demand for the exceptional assortment of product, access to brands, and runway collections that only Moda Operandi can provide."
We are thrilled with the support our investors have shown us, and look forward to continuing to transform the online luxury shopping experience for our clients all over the world."