Topshop's star-studded New York store opening has taken the US by storm. Lisa Berwin assesses the tycoon's first bite of the Big Apple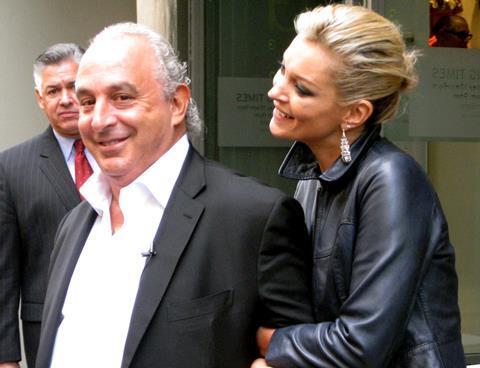 In the US, green is the colour of money and last week Sir Philip Green got plenty of bang for his verdant buck as he opened the doors of Topshop's New York flagship.
It has been a long time since an opening has generated international press attention and attracted such crowds. Eager shoppers queued for two blocks to get the first glimpse of the store as film stars and musicians fawned over the new opening.
Green can probably safely assume that he has a success on his hands and Topshop has taken a significant step towards being a truly global brand. The Manhattan store has almost become a celebrity in its own right.
Making the most of his business partnership with supermodel and fellow Croydon success story Kate Moss, the "Moss and Boss" show, as it was dubbed last week, took centre stage at the highly anticipated launch.
Opening in the US is not without risk – the country has proved a graveyard for other British retailers that have made the attempt, such as Dixons and M&S.
Yes, fashion involves risk, the billionaire tycoon admitted last week. But he remains confident that good clothing retailers will do well. "Where are people walking around nude?" he asked. "People are still wearing clothes."
He told Retail Week that the fact there is little leverage in the business also softens risk. "We're playing with our money," he said.
Green's young-fashion customers may be spending a little less than two years ago, but their appetite for the latest looks has not waned. There is also a clear gap in the US market where the preppy fashion of J Crew, Gap and Abercrombie & Fitch dominates the young-fashion scene. There is little between that market segment and higher priced designer labels.
J Crew boss Mickey Drexler said: "Now Topshop is established in New York it will go viral, not into every market in the US but wherever there is fashion. You can trust Philip to know where it will play well."
Numis analyst Andrew Wade says Green has not taken on the New York debut lightly and that typifies his approach. "If he does something he does it properly. Anybody who has money at the moment is in the box seat."
Regarded as a consummate dealmaker, Green has been quiet on the corporate front for a while. When Iceland went into meltdown Green was interested in what opportunities Baugur's problems might present, but in the event he took no action.
That was probably partly because Green didn't like the prices he would have had to pay. "He has been on the sidelines in terms of acquisitions but at some point things could become attractive," believes Wade.
So Green's focus this year has been squarely on Arcadia and Bhs, and he has just begun the process of integrating the two operations.
But he has still found time to play a prominent role in sector-wide matters. Green has been one of the leading lights in the campaign for monthly rents and in challenging the Government's increase in business rates. He also continued to foster young talent through his involvement with the Fashion Retail Academy.
Last week the Chancellor deferred part of the rate hike and landlords are increasingly open to monthly rents. Wade says Green will not view the rates victory as just down to him, but adds: "It never hurts having someone like him banging the drum."
That was no more evident than when the boss and Moss wowed the Big Apple last week.
A decade in the headlines
1999: Green makes £560m bid for Sears and later in the year prepares a £7bn hostile bid for Marks & Spencer
2000: buys Bhs for £200m from Storehouse
2002: acquires Arcadia
2004: fails in a £9bn bid for M&S
2005: pays himself a £1.2bn dividend from Arcadia
2006: receives a knighthood for services to the retail industry
2007: unveils the first Kate Moss range designed for Topshop
2009: opens Topshop in New York