Sales at Indian fashion etailer Koovs rose by over a quarter in the six months to end of September compared with the preceding six months.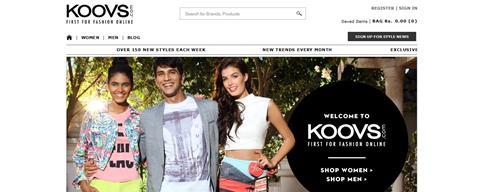 Posting its first interim results since it launched in 2012, the business reported net sales of INR81.7m (£808,000), up from INR64.4m (£632,000) in the six months to the end of March this year.
The results are not drawn against a comparable period because since the retailer was established in August 2012 it posted an extended set of results for the 14 months to end of September 2013.
The figures reported are for Koovs plc, which has an exclusive supply arrangement with the Koovs.com website following a restructuring of Koovs India into a wholesale trading entity. The restructure, which took place in March, was required to satisfy Indian exchange control laws prohibiting foreign direct investment in companies operating multibrand e-commerce platforms.
Web sales through Koovs.com were INR95.4m (£943,000) in the six month period.
Online traffic to Koovs.com rose by an average of 3% per week in the six months, coming in at 129% higher by the end of the period than at the beginning.
Chairman Waheed Alli said: "We have a clear and consistent objective to build Koovs into the number one fashion destination for India in the next five years and we are pleased with our progress to date.
"It's been a busy and strong first half but we are still at the beginning of the journey".
Koovs was created by two senior Asos figures, former chairman Lord Alli and product director Robert Bready.
In March Koovs listed on AIM on the London Stock Exchange, a move that generated £22m of revenue.