Koovs sales rocket 189% to £10m
Visits rise 110% to 43.8 million for the year
Registered users hit the 1 million mark, a jump of 226%
Koovs full-year sales have soared 189% as weekly visits to the etailer passed the 1 million mark and order numbers trebled in volume.
The Indian etaliler's sales hit INR981m (£10m) in the year to March 31, 2016. Koovs did not provide any breakdown of profit.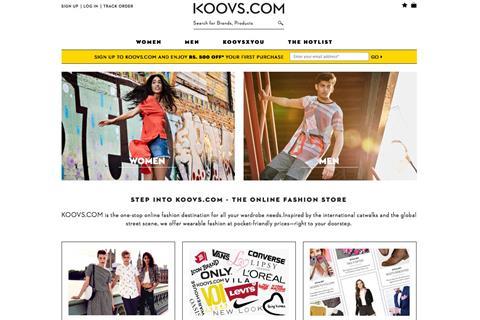 Traffic to the website also jumped, increasing 110% to 43.8 million for the year, with weekly figures regularly going beyond 1 million visits. Registered users hit 1 million, a jump of 226%.
Conversion rates jumped 55% to 1.5%, from 0.97%. The rise in traffic and conversion rates have resulted in more than three times the amount of orders being shipped.
Koovs chief executive and former Asos director Mary Turner said: "The business has achieved strong growth in volumes, ahead of our target for the year. Our focus is to bring affordable western fashion to the growing urban, aspirational, youth movement in India - a market which represents 75% of all online transactions across India."
The etailer added that its plans to raise additional funding were on track.
Peel Hunt analyst John Stevenson said: "The marketing success has been underpinned by a stronger consumer proposition. Koovs is expanding the product offer from its initial success in 'going out clothing' into daywear, workwear, activewear and a new range of entry-priced basics.
"Editorial content on the website has also increased, including live social media feeds and video content. This has continued to lift dwell times and page views over the final quarter."
Koovs was created by two senior Asos figures, former chairman Lord Alli and product director Robert Bready. In March 2014 it listed on AIM on the London Stock Exchange, raising £22m.