Footasylum's outlook has sent its share price tumbling. Will the retail chain be able to win over the spooked City again?
On the face of it, Footasylum's maiden results on AIM were relatively robust. Revenue shot up 33% to £194.8m for the 52 weeks to February 24, though adjusted pre-tax profits edged up just 4% to £8.4m.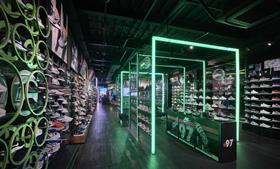 Against the backdrop of sliding consumer confidence and a battering of the high street, which has recently affected everyone from House of Fraser and Marks & Spencer to Toys R Us and womenswear chain East, many retail chiefs would have breathed a sigh of relief if their company had performed so strongly in today's challenging market.
Digging into the results, the underlining detail showed promise: the company, which sells 'on trend' branded footwear and clothing, had opened 10 new stores, refitted two and upsized seven. A calculated approach rather than pushing the accelerator, which could lead to backpedalling in the future, is an approach many retailers, with the added benefit of hindsight, will be wishing they had adhered to.
Key areas of success include its website, with online sales jumping 41% and accounting for 30% of total sales. Online continues to be an area of focus for management, with increased investment and more money being pumped into its online platforms through the launch of an own-brand website and apps for its Footasylum, Kings Will Dream and Seven brands.
Footasylum has strong online ambitions – it plans to boost sales so they account for 50% of revenues – and its heavy investment in digital is clearly paying off. When catering to a target market of 16 to 24-year-olds, brands need to ensure they have a strong multichannel proposition in order to attract customers and win over competition and Footasylum is taking the right approach.
During the period, Footasylum hired Barry Bown as executive chairman. He provided an upbeat commentary: "I am enthused by Footasylum's prospects and the ability of its people to deliver value for our shareholders… Our online sales are growing and we are investing in the technology we need to continue improving consumer engagement."
In tatters
However, it was a different mindset from analysts, including Peel Hunt's Jonathan Pritchard who said: "If we'd have stopped reading there, everything would have been fine."
It was the commentary from chief executive Clare Nesbitt that spooked the market and led to Footasylum's share price spiralling 51%. She said while its "core target market of the 16 to 24-year-old consumer has proved to be comparatively resilient in a downturn, our trading since the beginning of the new financial year has undoubtedly been impacted by the widely documented weak consumer sentiment on the high street".
She also added that further investment in its consumer offering and additional stores will have a knock-on effect and anticipated that EBITDA for the next financial year was "likely to show more modest growth than in financial year 2018".
Alarm bells sounded following a wider industry pattern of brands increasingly culling third-party retailers
In an analyst note, Pritchard responded gloomily that this will impact EBITDA and profit before tax will fall. "Yes, this is an investment phase but that's not what investors signed up for at float," he said. Delivering an extra blow to the Footasylum team, he added: "The arguments for a growth multiple here are in tatters" before whittling its share rating down to reduce.
Nick Bubb, an independent analyst, blasted Footasylum for not informing the market sooner. "The shares were bound to be hit hard after coming out with a profit warning after such a long period of saying nothing to the market. Companies are meant to communicate quickly if performance is off track and investors assumed the official silence meant that things were OK, despite the ominous weakness in the share price in recent weeks." He said the crashing share prices "may seem harsh, but management credibility is blown and investors who bought into the IPO last November feel duped".
Pritchard also sounded alarm bells over Footasylum's future following a wider industry pattern of brands increasingly culling third-party retailers. "We have long felt that the changes of approach from the likes of Nike and Adidas when it comes to product allocation would cause problems medium and long term for companies like Footasylum. The manufacturers' retailer lists have already been culled as they accentuate going direct to consumer and that trend will only continue, with no more than a handful of global retail names ending up 'inside the tent'."
Diversified strategy
However, Petah Marian, senior editor at WGSN, said smaller independents tend to be the victims to this strategy, rather than bigger retailers. "It's more about taking control of the customer experience and ensuring there's a consistent premium brand experience when buying. Brands want to ensure they're managing it well and that means fewer doors. However, the focus is on exiting independents rather than larger retailers that work well for the brand."
Other analysts praised its brand strategy, noting that Footasylum had become less dependent on footwear. "While footwear takes a lion's share of the business, there's been growth in its apparel division and it's positive that it's diversifying its business model," Mamequa Boafo, senior retail analyst at GlobalData, said. She was also impressed by this week's update. "Footasylum reported double-digit digital sales while physical stores performed strongly – it was generally a positive outlook for the retailer."
With investors on its back, all eyes will be on Footasylum to put its best foot forward in its next update.