JD Sports Fashion has reported an 82% leap in half-year profits as its flagship sports facscia continues to perform strongly.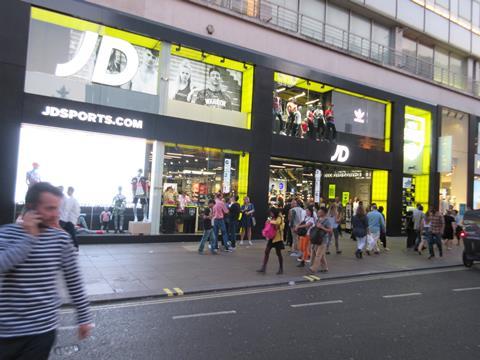 Pre-tax profits jump 82% to £46.6m
Like-for-likes up "more than 10%"
Warns organic growth "unlikely to continue"
No plans to increase prices after living wage takes effect next April, but says it will look at "operational efficiencies"
Pre-tax profits, excluding exceptional items, in the 26 weeks to August 1 came in at £46.6m compared to £25.5m the prior year, the retailer said. Sales increased 21% to £809.9m, while like-for-likes rose "more than 10%".
Speaking to Retail Week this morning, executive chairman Peter Cowgill said the results came as the group maintains a good relationship with the premium brands it sells. "They (the brands) understand us and our consumer and we continue to serve the marketplace," he said.
Asked whether the firm had upped its focus on keeping costs in check, Cowgill said: "We have always worked to keep costs tight."
On the Government's new living wage, due to be introduced next April, Cowgill said it will look at "operational efficiencies to mitigate the increase" but has no plans to pass on price increases to the consumer. It claimed that profits "across the retail sector" will be affected by the living wage.
The retailer also warned that the organic growth it has enjoyed over the last two years is "unlikely to continue indefinitely". Cowgill said: "We can't look into a crystal ball… but if we predicted that same level of growth we would be considered optimists."
The group said its sports fashion division had an "exceptional" first half with operating profits up 62% to £52.1m, before exceptionals. JD said it came despite an "extremely competitive market for sports fashion footwear across Europe".
In the retailer's outdoor division – including Blacks and Millets – operating losses were cut to £4.5m.
For its international business, the retailer said it remains "confident" for its prospects in mainland Europe, despite some "significant headwinds" from recent weakness in the euro.