With soaring sales and an ever-increasing customer base, Joules has become a darling of the high street but it has competition on its hands in the shape of Cornish brand Seasalt. 
With its nautical aesthetic and a very middle-class customer, Seasalt shares many similarities with current darling of the high street Joules. However, Seasalt is no copycat brand.
The Cornish business has been around for some time, but with a £16m war chest at its disposal thanks to recent investment from BGF and Santander Corporate & Commercial, Seasalt is eyeing growth and could give Joules a run for its money.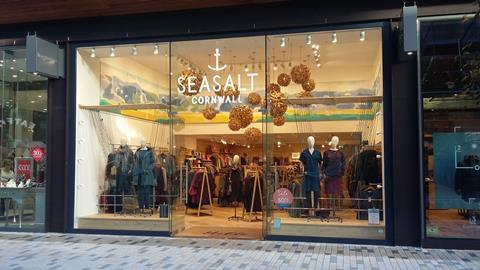 The retailer aims to nearly double its store numbers from 55 to 95 over the next five years.
If it succeeds, it will be firmly ensconced within the coterie of lifestyle brands – think Barbour and Fat Face, as well as Joules – pocketing a heavy chunk of middle England's spending.
It's all a far cry from the single shop in Falmouth, bought on a whim by founder Don Chadwick on a family holiday to Cornwall.
One wet and windy day, Chadwick paid a visit to General Clothing Stores in Penzance to buy waterproof coats, only to end up buying the shop and moving his family to nearby St Ives a few months later. Back in those days, its customers were sailors, farmers and fishermen, not to mention the many St Ives-based artists who visited the store.
After Chadwick died in 2001, his three sons decided to create a clothing brand based out of the store, inspired by all the things they love about Cornwall, and Seasalt was born.
"We have always had a great story with our Cornish heritage," says chief executive Paul Hayes, who adds that the business' growth trajectory has shifted over the past few years.
Hayes, the first chief executive outside of the founding family, joined the business five years ago. "Over that period we have come from a family background to now bringing more professional management into the business," he says. "We have also done a lot of work on product, brand, people and business processes."
Product has been the brainchild of creative director Laura Watson, who joined in 2010 after founding her own label Saltwater. During her tenure, product has transformed from being "very colourful, jaunty and nautical" to being more subdued and natural-looking.
"Over time, we have tried to make it more modern, versatile and ageless," Watson says. "We are really focusing on Cornish British modernism, the whole [Barbara] Hepworth and artists-of-St-Ives look. We always do well with colour but we have become more utilitarian."
Readying growth
That change in product has been supported by transformed business processes that are designed to support annual sales of £200m – the business turned over £41m in the year to Janaury 2017, an uptick of 20% – and systems designed in conjunction with IBM that deliver analytics tailored to Seasalt's needs.
The retailer makes a hefty 36% of its sales online – a percentage which has increased significantly over the past three years – and also sells through John Lewis and Fenwick. However, Hayes says the way it sells through department stores must change.
He says the brand needs to retain more control over the customer experience within these stores.
"Department store chains have their own challenges and I can see, as we move into the future, that we will probably need to revaluate the actual business model," he says.
"With the amount of work we have done building skills and knowledge and teams internally, we will probably start to see those points of sales more like our own stores. I think they need to be treated as such. The question is, how do you bring that into your overall network?"
"How hard you need to work in order to make London stores profitable makes us a little bit reticent"

Paul Hayes, Seasalt
The business is, thanks to its recent investment, focused on expanding its own store estate.
"We see our stores as being very important in terms of the customer experience," says Hayes. "It is very much about being selective as to where you open. We do a lot of work understanding our consumer when choosing locations and our stores all make a profit."
To this point, Seasalt has chosen to avoid London, with its closest store to the capital in wealthy commuter haven Guildford.
"Clearly, London is an area where you are moving into some very significant rents," Hayes says. "How hard you need to work in order to make that profitable makes us a little bit reticent."
It's a persuasive argument – and one that should make London's policymakers sit up and take notice. Then again, with life down in Falmouth looking picture perfect, why rock the boat? Joules had better watch out.