Charles Tyrwhitt founder Nick Wheeler reveals his thoughts on the direction of the menswear retailer, service and men's shopping habits.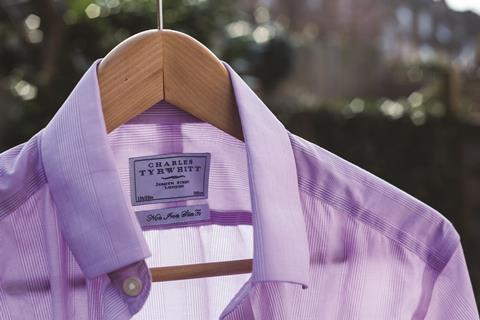 Retailers seeking to grow the top line will often try to diversify into other product areas. But Nick Wheeler, the founder of menswear retailer Charles Tyrwhitt, has a few words of warning.
"The more we try and do lots of different things that we think might be clever, the worse we do," he says.
And Wheeler is a leader worth listening to; he has presided over substantial growth at Charles Tyrwhitt, which has enjoyed sales growth of 20% over the past three years, in a challenging clothing market.
But it took him a while to get his business model right.
Wheeler knows first-hand exactly how "clever" approaches to business may not always be the best idea. In the '90s, he bought a small chain of children's clothes shops. "I lost more money in three months than I'd made in the last three years," he says.
Seven years later he attempted to diversify the product range again, this time by selling womenswear. It went as well as the children's clothes shops. "I should have learnt the first time," he says.
The men's shirt market
Apart from a small amount of women's shirts online and in store, the retailer now predominantly sells menswear - a business Wheeler knows very well. So well in fact that Charles Tyrwhitt reported a 20% increase in turnover and profits up to £17.5m from £14.5m in the year ending August 2014. Wheeler received a £15.7m payout, an increase of more than 50% from the previous year.
"The men's shirt market is a massive market globally, there are a hell of a lot of men out there who wear a shirt, tie and suit," says Wheeler.
He observes that Charles Tyrwhitt's sustained growth has been driven by small, regular incremental tweaks. "So the growth is by evolution, rather than revolution," says Wheeler.
And when it comes to apparel revolution, Wheeler says he has noticed men taking more interest in fashion than they used to.
"For years men just didn't notice or care about fit," he explains. "For work it was 'I want five shirts, two suits, five pairs of black socks' and off you go."
But he says men are starting to care more about what they wear to work, incorporating jackets, waistcoats, a pocket square and perhaps not even wearing a tie. "It's partly because there's been a little bit of a dress-down culture and men have less of a uniform for work, and now they have to think more about it," he says.
"People suddenly realised a good fitting shirt makes you look and feel a hell of a lot better.
"And men have learnt that colour is something they've become more aware of – chinos used to be beige and navy, but now we do some pretty wacky colours, pinks and greens."
Customer service
But Wheeler thinks a great product is nothing without great customer service.
"Quality, value and service – if we can get those three things right, we can grow this business," he says.
Wheeler – who founded the company using his middle names Charles and Tyrwhitt – puts customer service at the heart of his business plan. The retailer spends a lot of time and energy training its store staff. "We want them to love their job and love Charles Tyrwhitt, because if they love Charles Tyrwhitt, the customers will love Charles Tyrwhitt."
While the retailer sells predominantly through catalogue and online - only 30% of its sales come through bricks-and-mortar stores - Wheeler believes retailers need to entice customers back onto the high street and is investing in the customer and shopping experience.
He says shoppers need a reason to visit physical Charles Tyrwhitt shops, particularly as the brand is strong online and consumers face hurdles such as "parking tickets and sitting in traffic".
"Retail needs to have theatre and entertainment, it needs to be fun and interesting and for people to enjoy coming shopping," he says.
Wheeler notes a core Charles Tyrwhitt value is being fun and quirky. "I hate boring stuff," he says. "But it's a fine line between fun and quirky, and stupid. People don't want to think you're trying too hard."
He also says retailers need to make sure they don't "sit back on their laurels and complain" about external factors such as the internet, weather, economy and politics.
"Every retailer is affected to a greater or lesser extent by the internet," he says, pointing to bricks-and-mortar retailers of records and books, which have suffered more than, say, retailers of Louis Vuitton handbags.
Rather than being hamstrung by the internet, Wheeler has grabbed the online opportunity with both hands; ecommerce and catalogue sales represent 70% of sales.
It seems like after years of experimenting, Wheeler has his model fine-tuned.