H&M's newest brand Arket is to open its doors on Regent Street this Friday. Here's a sneak peak at its online and in-store offer.

Arket, which loosely translates as 'sheet of paper', is the seventh string to H&M group's bow of brands.
Much like sister brand Cos, which came to London in 2007, it offers a clean, pared back, Scandi aesthetic but takes a more classic, timeless approach than the ultra-modern Cos.
That pared back aesthetic is evident in store – the interior is so industrial that at first glance it looks almost more like a warehouse than a traditional store.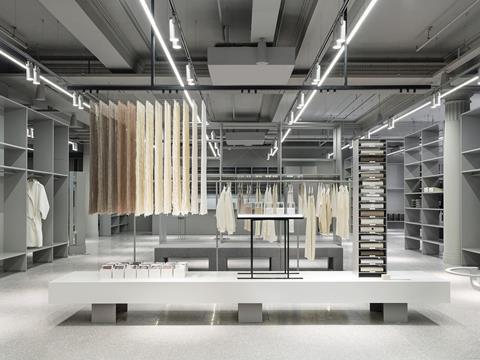 Unusually, menswear is on the first floor, together with homeware - a first for the H&M group and almost all of retail.
Arket's website shows that the brand is thinking differently about customer journeys, with users able to browse by material and colour rather than selecting a product type first.
Much of Arket's offer will be on sale throughout the year, with products undergoing various seasonal tweaks: the same styles will have a heavier cotton in winter or a lighter knit in spring for instance.
To allow customers to take advantage of that continuity and locate what item they're looking for quickly, every Arket product has a prominently displayed serial code which signifies its colour, material and style.
The serial code is even displayed in its in-store, vegetarian cafe, run by head chef Martin Berg.
That cafe is echoed on its website, which details recipes on traditional Nordic dishes with homeware products used available to buy at the bottom of the recipe.
It's this tying together of customers lives that really distinguishes Arket from its sister brands and competitors: many retailers talk of being 'lifestyle brands', few execute it so well.