House of Fraser is introducing a buying scheme that will seek discounts of up to 20% from suppliers if the retailer ups the size of wholesale orders.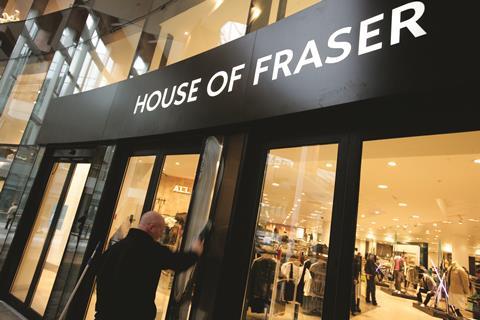 The scheme will seek discounts based on how well the supplier's brands are selling. If a brand is selling well at House of Fraser stores and the retailer increases its orders, the department store will ask for a greater discount.
If a brand's sales increase 25% in one year, House of Fraser will ask for a 10% discount. And if they rise by 50%, the retailer will ask for 20% off.
This discount will be in addition to the wholesale buying discount, which is believed to be about 10%.
Suppliers have said the scheme could make it difficult to grow their businesses and that they might have to increase prices so that brands are not left out of pocket.
A supplier told Drapers that the terms of the deal were "unbelievable" and would make it "impossible" for them to grow.
A House of Fraser spokesman said: "There is no doubt that this investment will benefit all parties and therefore, in turn, we will appreciate our partners' continued collaborative support to ensure full delivery of our exciting plans. To underpin the increased sales potential, House of Fraser will be looking to introduce a Retrospective Incentive Bonus Scheme (RIBS) based on growth of its wholesale purchases."
Investment in the business
The scheme is being implemented following the completion of Nanjing Cenbest's acquisition of the retailer, as the business commits to investing £150m to develop the business in the UK and internationally.
£90m of the £150m investment will be spent on refurbishing UK stores over the next four years. The rest of the investment will be spent on IT infrastructure and multichannel.
House of Fraser is also expanding into China, with plans to open as many as 50 stores. The retailer has plans to open three stores over the next two years in the region, the first opening in 2016.
Last week it was revealed House of Fraser chief executive John King is stepping down after eight years and will be succeeded by chief operating officer Nigel Oddy.