French Connection has reported smaller losses for the year as it continues its turnaround plan, but like-for-likes in its retail division have continued to fall.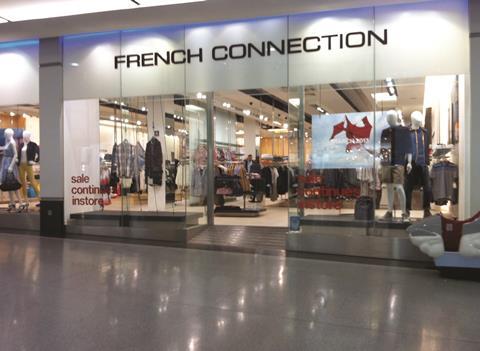 The fashion retailer posted an underlying operating loss of £800,000 for the year ending January 31 compared to a £4.4m loss in 2014, but warned that it was "planning accordingly" for another challenging year.
The retailer's shortened losses were driven by growth in its wholesale division and increased licensing income, as like-for-likes in the UK and Europe fell 3% during the 52-week period. Revenues slumped 5.8% to £178.5m.
French Connection said improvements in its wholesale division, which posted a 4.6% growth in revenue for the year, helped the retailer's losses narrow.
Bosses also pointed to global licensing income, the closure of "non-contributing stores" and continued cost control as the reasons behind its shortening losses.
French Connection chairman and chief executive Stephen Marks said it marked "another step towards returning French Connection to profitability."
But Marks admitted he was "disappointed" with the retailer's second half performance after a "good" first half to the year.
He added: "The performance of our wholesale and licensing operations were both encouraging, supported by the continued strength of the French Connection brand worldwide. We have also maintained a tight control of costs and have continued to close loss-making stores.
"Although we are encouraged by forward orders in our wholesale business, trading on the high street remains challenging and we are planning accordingly."
Speaking to Retail Week, French Connection chief operating officer Neil Williams said the retailer was looking at ways to combat any unseasonal weather in the future by introducing more transitional products and leaving buying closer to the season.
"We are leaving buying closer to the season so we can see exactly what is going on [with the weather]," he said. Williams added the weather is "difficult" to predict "these days".
In a note this morning, analyst Anusha Couttigane from Conlumino said there waa a "big discrepancy" between French Connection's price positioning and the products it delivers. However Williams was quick to shrug off such suggestions and said there were no plans to alter its price tags.
"I think we stand up well to our direct competition [Whistles and Reiss]. But then we are in a very competitive marketplace, we are not only up against the upper end but also the lower end. But I do think we stand up well. There are no plans to change the prices, in terms of the products we are producing and the quality the price points match."
Williams said the retailer would look to close up to four stores this year.
On recent trading, Williams said "retail had not been great in the last few weeks" and that the high street chain remains cautious.