Footfall in September fell 0.9% as warm weather hit fashion sales and shopping centres recorded the biggest decline for a year, according to BRC/Springboard data.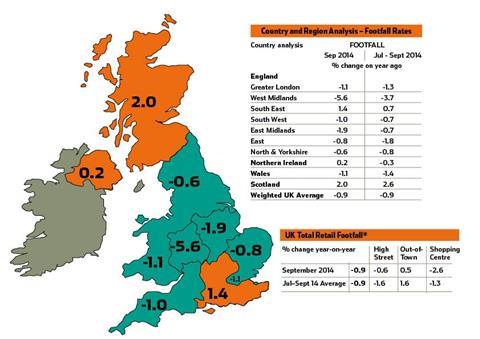 The 0.9% year-on-year fall in footfall was slightly up on the 1.1% fall recorded in August and in line with the three-month average of a 0.9% decline.
Out-of-town reported the only rise as footfall increased 0.5% year-on-year in September.
Footfall in shopping centres plunged 2.6%, the deepest decline since October 2013, and high street footfall decreased by 0.6%.
Springboard retail insights director Diane Wehrle said: "The drop in footfall of 0.9% is modest and better than the drop of 1.1% recorded in August, however, if the weather had been more akin to the norm for this time of year it is likely the result would have been far more favourable.
"Being dominated by fashion – and the fact that it was fashion sales that were the hardest hit – it is not surprising that the greatest toll is on shopping centres, although the degree of increase in footfall in out-of-town locations that we have come to expect is also greatly reduced."
British Retail Consortium director general Helen Dickinson said: "September's footfall figures are a bit of a mixed bag. Out-of-town footfall continues to grow compared to last year which shows that consumers are increasingly confident.
Demand for big-ticket items continues to be strong with furniture outperforming all other categories. The South East also fared well showing growth in footfall for September of 1.4%, which is in contrast to the slight decreases in footfall across the other English regions overall.
"As online sales increase overall we can see how shopping is changing and retailers are adapting. The industry is working hard on providing great online shopping experiences for consumers and this too impacts footfall. However, with Christmas fast approaching footfall is only set to increase on the high street, out-of-town and in shopping centres."
All regions with the exception of South East, Northern Ireland and Scotland reported declining footfall.