MySale will focus on luxury market in UK, taking it away from its mid-market roots
Flash sale etailer posted 4% sales rise in half-year figures
Sales rise marks a recovery following 2014's profit warning
Flash Sale etailer MySale will focus its UK growth strategy around premium brands as its boss believes the mid-market is saturated.
The etailer's boss Carl Jackson said the business will pursue a different tactic in the UK to its Australian, New Zealand and southeast Asia models.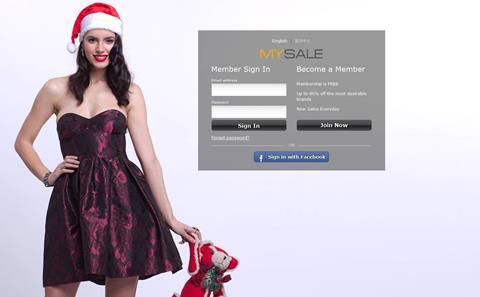 Jackson said there is scope for growth in mid-market discounting overseas, but the UK market was saturated.
He said: "In Australia, New Zealand and Asia we are much more mid-market. We offer what TK Maxx would sell: Tommy Hilfigger, Levis, Calvin Klein and more domestic brands. Our UK offering is much more premium – retailers like TX Maxx do what they do very well. We need to differentiate ourselves and having a more premium feel offers a point of difference."
It came as the etailer, which counts Sir Philip Green and Mike Ashley among its backers, posted a 4% rise in half-year sales and a return to profit.
Jackson added: "In the last six months we have invested more in the UK and we are now seeing customer engagement with premium branded fashion.
He listed Bellstaff, Jimmy Choo, Moschino, Todds and Versace as brands favoured by MySale customers.
"The UK isn't our biggest market but we will continue to grow it, though we now have a more cautious and disciplined approach," said Jackson.
Strategy shift
After a profit warning in late 2014, MySale changed its strategy, cutting its cost base and its emphasis on promotions.
It increased its product mix and focused on southeast Asia as a "growth engine". It also closed down its US and South Korean websites.
Jackson said today that MySale had no immediate plans to reopen the sites.
He said: "That is not something we will be doing in the immediate future. We set the path out a year ago and are sticking with it. Never say never but our focus is on the core business.
"The reality with the US is that you have to have deep pockets and commit long term. Some of advice Sir Philip gave us was that you cannot go into that market unless you are determined to dig deep and maximise every opportunity."
He said that MySale was beginning to benefit from the mild winter as many retailers and designers offloaded excess winter stock onto the site.