Farfetch has partnered with Condé Nast to create a 'content-to-commerce' partnership, integrating Farfetch product with Condé Nast editorial.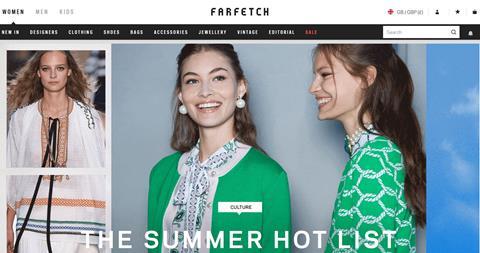 Condé Nast publications, such as Vogue, Vanity Fair and GQ, will create shopping guides featuring Farfetch product and will run shoppable content across its digital and social platforms among other "innovative content and commerce experiences for today's consumer".
The publishing house's existing Style.com platform will be discontinued.
The partnership will allow Farfetch to compete with the content produced by rival Net-a-Porter, which in 2014 launched Porter, a rival to Condé Nast's jewel in the crown, Vogue.
Condé Nast International chairman and chief executive Jonathan Newhouse, who will join the board of Farfetch, termed the move an "industry defining collaboration".
'A natural step'
Farfetch founder and chief executive José Neves said: "We have long felt that inspirational content is a natural part of any luxury shopping experience.
"This global partnership with Condé Nast will significantly augment the retail experience for our customers, and we see it as a natural step in Farfetch's approach to commerce."
Farfetch co-chairman and Net-a-Porter founder Natalie Massenet added: "Since 1999 I have believed in the importance of combining content and commerce in order to elevate the digital shopping experience.
"Content educates, entertains and inspires purchases, which is crucial in the customer journey of discovery. For the consumer this will be a joy to move from inspiration to transaction at any time and any place."