Edinburgh Woollen Mill has unveiled a rise in group profits as it plots 100 store openings in the next two years.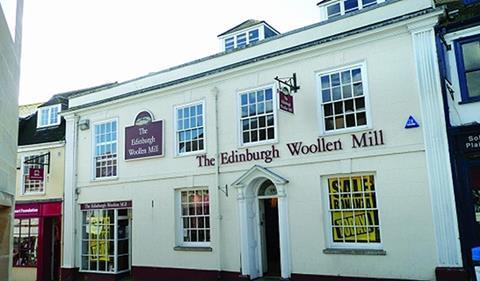 The retailer – which operates 1,000 stores across its eponymous clothing chain as well as Peacocks and Jane Norman – reported pre-tax profits up 26% to £71.3m in the 52 weeks to March 1. EBITDA increased 45% to £86.9m after a "relentless focus on customers and costs".
"Multi-brand, multi-country, multi-channel"

Edinburgh Woollen Mill's business model
Edinburgh Woollen Mill said it achieved "positive" like-for-likes as it benefitted from its "multi-brand, multi-country, multi-channel model".
Sales across the group slipped from £566.7m to £551.9m which the retailer said was a result of store closures and also the effect of a 53-week trading period in the prior year.
Edinburgh Woollen Mill said the 100 new shops would open both here and overseas. In the last financial year it opened 34 shops.
Sales at its value fashion brand Peacocks increased 4% to £324.9m while like-for-likes were "positive". Online sales jumped 221%. Peacocks will open more shops next year to add to its 451 UK and 14 overseas stores. Edinburgh Woollen Mill said it has invested £80m in the business since acquiring it out of administration in 2012.
Brand pedigree
At the group's Edinburgh Woollen Mill business, famous for its Harris Tweed and cashmere ranges, sales slipped from £169.7m to £168.5m. The retailer was forced to temporarily close one of its largest stores in the period due to a fire, while it permanently shuttered "several" under-performing stores.
The group said the brand's "pedigree, expanding customer base, improved store portfolio and multi-channel strategy" helped it achieve positive like-for-like sales. Online sales at the brand were up 28% after a new platform was installed and click-and-collect was introduced. The brand also said it revamped ranges to include more contemporary lines to help broaden its demographic reach.
It was also boosted by tourists "keen to buy British".
Edinburgh Woollen Mill said it was pleased it had notched up the strong performance in a "challenging market and increased competition from supermarkets".
The retailer said sales and margins were boosted by controlling input prices, particularly cashmere, wool and cotton, and a "relentless focus on product quality, value for money and customer experience".
Edinburgh Woollen Mill Group commercial director Steve Simpson said: "From discerning baby-boomers to cost conscious mums, our brands continue to be guided by the needs of their customers and are being repaid with their loyalty.
"Whilst each of our brands has a distinct customer focus, they are united by a common commitment to excellence in product quality, customer experience and value for money. Alongside a truly multi-channel model, continued investment, innovation and strong cost control, the Group has once again delivered a strong sales performance and outstanding profit growth.
"We are particularly encouraged by the sales and profit performance of the Edinburgh Woollen Mill business, which has grown consistently to become a category leader in the over 40s customer segment. Leveraging its strength into a broader demographic, both at home and overseas, in store as well as online, is a key focus of the Group in 2015 and beyond."