Edinburgh Woollen Mill, which operates 1,000 stores under its eponymous brand as well as the Ponden Home and Peacocks fascias, has reported an increase in like-for-like sales for the five weeks to January 3.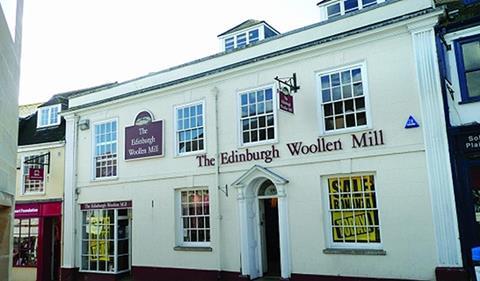 Like-for-likes climbed 2.7% at Edinburgh Woollen Mill (EWM), 5.2% at fashion retailer Peacocks, and 4.5% at homewares specialist Ponden Home.
EWM's total sales increased 6.2% after the retailer opened 15 stores over the past financial year.
Peacocks opened 43 stores, including 11 in December, and achieved a total sales increase of 11.1%.
Ponden Home plans to open 18 stores by February 2016 and is to launch an ecommerce site.
Online was particularly successful for the rest of the group over the Christmas trading period. EWM's online sales increased by 23.4% and rocketed 92.6% at Peacocks.
Peacocks's online growth was a result of efforts to ramp up its web presence over the past couple of years. The retailer fell into administration and was rescued by Edinburgh Woollen Mill in 2012.
The group now provides a click-and-collect service across its brands so customers purchasing online with Peacocks can choose to collect from EWM.
Steve Simpson, group commercial director for Edinburgh Woollen Mill Group, said: "We have developed our online offer significantly over the past 12 months, with the launch of click-and-collect proving particularly successful, and allowing our customers to shop online and pick up their goods from any of our 800-plus Group stores."
"We now plan to maintain the speed of expansion with more than 100 new stores in the next 12 months, while the launch of in store ordering will further improve our customer-focused multi-channel offering and drive online sales."
Simpson said by delivering its ecommerce and taking control of the Group's fulfilment infrastructure, it has been able to achieve a "truly multi-channel model."
"As a result, we can focus on delivering what our customers want: quality products, value for money and an excellent customer experience."
Last summer, Edinburgh Woollen Mill put its Jane Norman brand into administration, putting 157 jobs on the line.
The retailer continues to trade as an online entity, but the Group has not disclosed its run up to Christmas trading figures.