Claire's Accessories' UK operating profit slumped from £5.1m to £629,000 in its full year to February 1, 2014, after a fall in sales.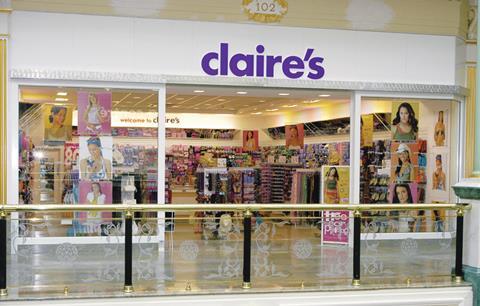 EBITDA dropped from £9.3m to £4.7m at the teen accessories retailer.
Claire's Accessories, which has stores in 45 countries, said the fall in UK profits was predominately driven by a 5.51% drop in total sales to £120.6m during the period.
The retailer, which operates 421 shops in the UK and Ireland, said the costs associated with store closures also held back profits. It added that earnings were also hit by investments in its ecommerce platform.
Claire's said sales were impacted by the longer 53-week prior reporting period, store closures and the continued empact of tough economic conditions.
The retailer opened five stores and closed 19 underpeforming stores in the year. It said sales at its new stores are growing quickly and "generate attractive returns".
Despite the fall in operating earnings, pre-tax profit increased to £7.9m from £3.2m as a result of a dividend paid to the UK and Ireland arm from its French business.
Claire's global chief executive Beatrice Lafon said the retailer was "happy" with the performance but declined to give further details on the fall in operating profits.
International partnership
The teen fashion accessories and jewellery retailer revealed a global partnership with Toys R Us this autumn, setting out plans to open branded shops within the toy retailer's stores in the UK, US, France, Germany, Austria and Spain.
In documents filed at Companies House, the retailer said: "In the UK, the Claire's brand has significant penetration but we continue to opportunisiticaslly pursue additional locations.
"We also believe there is a compelling opportunity to remodel key locations in order to create a more contemporary ambience and a visually appealing display of our innovative product offerings, and to further enhance our customer's in-store experience."
It added: "We also evaluate stores whose leases are up for renewal and are likely to undergo a remodel."
The company added that it plans to continue to open stores when suitable locations are found and satisfactory lease negotiations are negotiated.