Burberry is sending Twitter users personalised pictures from its London Fashion Week show if they use a bespoke hashtag.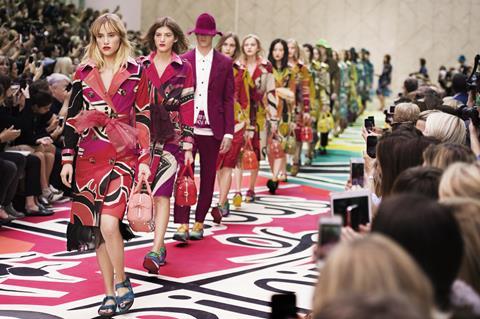 Those who want to see models walking down the catwalk can tweet #Tweetcam to the @Burberry Twitter account which will trigger a camera to take a photograph from the show.
The photo is personalised with the user's Twitter handle, as well as a time stamp of when the image was taken, and then tweeted back.
The images are being shared from Burberry's Prorsum autumn/winter '15 Womenswear runway show, which is taking place today.
Burberry is also live streaming its Prorsum womenswear show to consumers in Japan using a messaging app called Line.
The partnership with the Japanese mobile application will see the fashion house connect with users through real-time streaming of fashion shows as well as additional creative content.
The luxury fashion retailer is not the only brand to use social media to engage with audience's during London Fashion Week, Topshop is also partnering with Twitter to identify live trends during the five day long event.
Topshop will analyse real time data on Twitter to identify trends as they happen and display them in near real time on digital billboards around the country.
Trends will be grouped together on the billboards using Twitter hashtags and customers walking by the signage will be encouraged to tweet a hashtag to the Topshop account.