Boohoo pre-tax profits rocket 129% to £14.4m in the six months to August 31
Total sales up 40% to £127m with "robust growth across all regions"
UK sales up 38% and active customers up 28% to reach 4.5 million
Boohoo'sprofits have rocketed 129% in its half-year as the fast fashion etailer unveils "robust growth across all regions".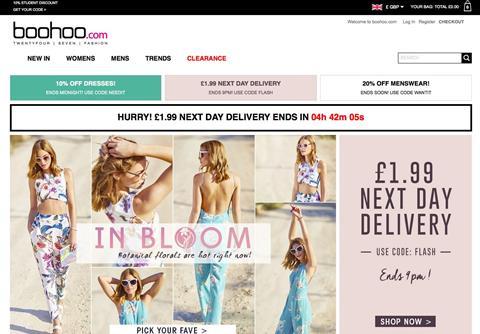 The etailer, which floated in 2014, said pre-tax profits hit £14.4m in the six months to August 31.
Sales jumped 40% to £127.3m in the period.
It said its profit growth came as the result of operational improvements and investment in technology, and reported a 28% increase in active customers during the period to 4.5 million.
Boohoo grew UK sales by 38%, with a 41% increase in the rest of Europe and 93% hike in the USA.
Its international business now accounts for 36% of its total revenue.
The etailer said currency exchange movements since the EU referendum "have not significantly affected results" due to foreign exchange hedges placed several months earlier. It added that weaker sterling "provides the opportunity to generate incremental international sales" over and above hedged transactions.
Ecommerce investment
Boohoo joint chief executives Mahmud Kamani and Carol Kane said: "Following the success in the first half of the year we will continue to look for opportunities to invest in marketing campaigns and our customer proposition to drive future sales growth and improve customer lifetime value.
"We will also be making significant investments in our IT systems and ecommerce platforms."
Boohoo is set to launch children's clothing and a maternity range in the second half of the year.
It is also considering acquiring rival fashion site Pretty Little Thing before March 2017. It said: "Management is evaluating all aspects of a potential acquisition, the related management incentive and how the business will be best integrated and managed as part of the Boohoo group."
As a result of "continued momentum in the UK and encouraging growth in selected overseas markets", Boohoo has once again raised its full-year sales guidance, this time to between 30% and 35%.