Fashion etailer Boohoo has revealed a 35% jump in first-half sales as its number of active customers increased by a third.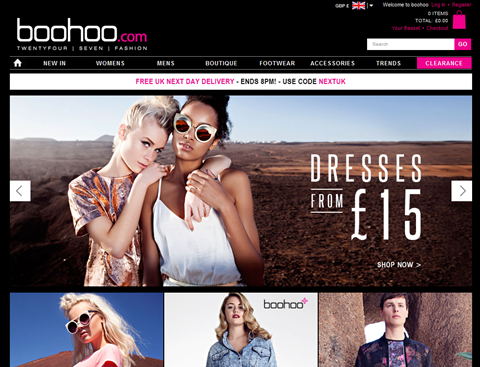 First-half pre-tax profits up 39%
Sales increase 35% to £90.8m
Boohoo now has 3.5 million active customers
The retailer, which floated last year, reported that sales came in at £90.8m in the six months to the end of August. This was an acceleration on sales growth of 37% in its first quarter.
Boohoo's active users, customers who have shopped in the last year, rose by 32% in the period to 3.5 million.
Pre-tax profits climbed 39% to £6.3m. However, adjusted EBITDA margin fell from 10.1% to 8.4%.
Joint chief executives Mahmud Kamani and Carol Kane said the performance had been boosted by acquiring new customers through investment in price, promotion and marketing.
The etailer, which now employs 876 staff, said UK sales rose 30%, while in the rest of Europe its revenues increased 19% and the rest of the world 65%.
Kamani and Kane added: "We continue to invest in our brand internationally, and our strategy to focus on key markets where we see the greatest growth potential remains unchanged."
Gross margins were 60.1%, down 220 basis points.
Boohoo launched a new app and responsive website in its European markets during the period and mobile and tablet now represented 65% of customer sessions.
Looking ahead, Boohoo said it expects sales growth for the full-year to be between 30% and 35% and it is currently trading in line with "current market expectations" for EBITDA.