Pre-tax profits slide 63.7% to £2m
Like-for-likes fall 8.6%
Online sales slip 1.1%
Bonmarché boss Helen Connolly has pledged to return the business to growth, following plunging like-for-likes and profits in its first half.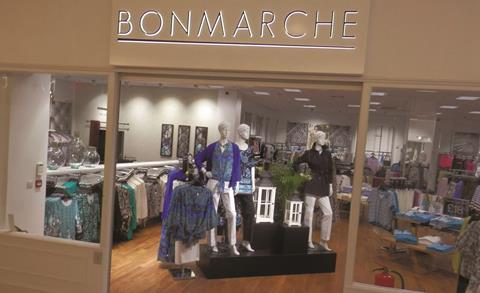 Pre-tax profits more than halved to £2m in the 26 weeks to September 24, compared to £5.4m in the prior year.
Like-for-likes slid 8.6% in the 26 weeks to September 24.
Total revenues slid 4% to were £93.1m.
Online sales fell 1.1%, although these recovered in the second quarter, inching up 2.3%.
In September, the retailer issued its second profit warning in a year, saying that full-year profits would be between £5m and £7m.
Bonmarché's new boss Helen Connolly, who took over from Beth Butterwick in August, today vowed to return the business to growth in its 2018 financial year.
She said Bonmarché has "significant potential to grow as a retailer serving the 50-plus women's value clothing market, a belief that has strengthened with my continued exposure to the business".
"Work has already begun, to modernise and simplify our operations and improve basic disciplines – key foundations for the more strategic priorities of developing the customer proposition and improving customer journeys."
The retailer said that certain improvements were now visible. During the period it completed its store refit programme, opened 12 new stores and concessions and launched a TV campaign.
It added that it had seen an "encouraging recent performances from coats and knitwear" and had simplified its customer profile from four personas to one, which it has named "Lisa".