Bonmarché is considering launching its first ever national TV advertising campaign next year as it ramps up efforts to attract new customers.
The value womenswear chain, which has 300 stores and concessions across the country, piloted two different campaigns in the Northwest and Northeast during September and October.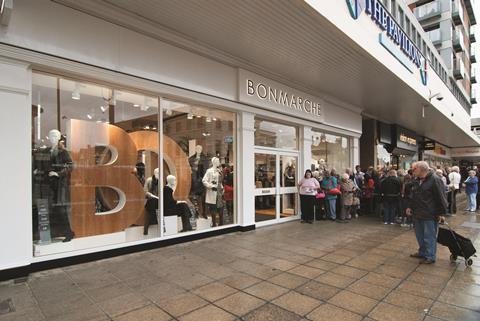 The campaign aimed to highlight the range of ages, shapes and sizes Bonmarché's proposition caters for.
Bonmarché chief executive Beth Butterwick said the chain remained focused on serving its existing loyal customer base, but it is also placing a greater emphasis on raising awareness among customers that do not yet shop with the retailer.
Butterwick said the regions where the first burst of advertising was tested had seen strong like-for-like sales growth during the trial and local staff had anecdotally reported a rise in new customers. She added Bonmarché "would consider a national campaign."
The new campaign follows a raft of appointments in its marketing and multichannel teams, including Paul Sanderson as its first head of ecommerce and Paul Kendrick, who took over as marketing and multichannel director in August.
Recent trading
It comes as the retailer reported a 15.6% dip in half-year pre-tax profits to £5.4m for the 26 weeks ended September 26, despite a 2% uplift in like-for-like sales during the period.
Bonmarché said the fall was caused by a £1m exceptional cost relating to the company's listing on the London Stock Exchange, while it also invested in stores, its supply chain and its ecommerce platform.
Online sales grew 4.2% over the first half of the 2016 year despite growing 11.2% during the first quarter. Growth slowed during the second quarter due to issues around the launch of its new responsive site.
The new site, which launched on July 6, required "significant changes to the structure" and that interrupted the operation of its search engine optimisation (SEO).
This has since been rectified and a new digital agency has been appointed to rebuild the SEO links. Butterwick said online sales are "already back to double-digit growth."
Sales over the rest of the year are expected to be in line with expectations, despite milder weather causing a "challenging November".
Bonmarché opened eight new stores and concessions in the first half and is on track to open a total of five standalone stores and between 15 and 20 concessions over the full year.