Stewart Binnie aims to restore the retailer's international business and Japan is top of his list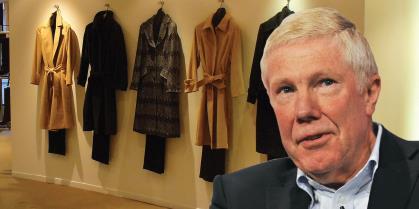 Stewart Binnie, the former Aurora Fashions president who was drafted into Jaeger in June to lead a turnaround, has been made executive chairman.
Former owner and non-executive chairman Harold Tillman has left the upmarket fashion retailer.
Binnie, who was parachuted in by private equity firm Better Capital after it bought 90% of the retailer in a £19.5m deal, said: "Four months on we have managed to put all the fires out and have some clarity about where the business is going".
Binnie wants to restore Jaeger's international business and has hired consultant David Hewitt to head the operation. Hewitt was previously the managing director of Daks.
Jaeger is in talks with Asian partners to return to Japan with standalone stores. It pulled out of Japan under its former ownership only last year. Binnie said: "If I had my way it would all come together [in Japan] in autumn/winter 2013." He said by that time Jaeger will have international product, some key relationships in place and a handful of stores ready to open.
The retailer is also seeking franchise or licensing partners in Eastern Europe, the Middle East, China, Korea and North America.
Jaeger plans to increase its use of British fabric in its men's suits from 75% at present to 90% in a bid to leverage its reputation for British quality.
Binnie believes the change will improve the quality of the product, but it will subsequently increase its top price points. However, he said entry-level and mid-price suits will still be available.
Jaeger has also appointed Shailina Parti as brand director. Parti has previously worked for Jaeger but was most recently at Monsoon Accessorize as buying and design director.
Binnie said the last month of trading has been "extremely strong" and said he was "upbeat" about Christmas.
Better Capital ploughed £20.5m into Jaeger after buying 90% of the business in April.
Fellow fashion retailer Arcadia boss Sir Philip Green is also ramping up British manufacturing. He has upped the number of British factories he uses by 20% in the past year in the face of rising costs in China. He now works with 47 British factories.